The Ordinary Salicylic Acid 2% Solution is a blessing for oily, acne-prone skin. It's another fantastic offering from The Ordinary brand that delivers remarkable results.
If you're searching for a chemical exfoliator that effectively eliminates dead skin cells, banishes blackheads, and prevents acne, or if you need a spot treatment to tackle stubborn breakouts just before a special occasion, this product is an absolute game-changer. When I heard about The Ordinary releasing this serum, I knew I had to have it without hesitation.
In this The Ordinary Salicylic Acid 2% Solution review, I will share my experience using this serum, including its benefits, ingredients, drawbacks, texture, performance, and more. Let's begin!
The Ordinary Salicylic Acid 2% Solution Review
What is it?
The Ordinary Salicylic Acid 2% Solution has become a popular skincare option for those with acne-prone and oily skin. This chemical exfoliator not only helps shed dead skin cells but also addresses blackheads and prevents future breakouts. With its lightweight texture and oil-free base, it has garnered the attention of skincare enthusiasts and experts alike.
As part of The Ordinary's affordable and effective range of skincare products, the Salicylic Acid 2% Solution stands out due to its unique formulation. Unlike other over-the-counter salicylic acid treatments, this particular product is less irritating, making it suitable for various skin types.
The added bonus of squalane in the formula ensures that the skin is moisturized rather than dried out, which can be a common concern among those using salicylic acid treatments.
Key Ingredients
Salicylic Acid is the primary active ingredient in this 2% solution. It is a Beta Hydroxy Acid (BHA) that is known for its capacity to exfoliate the skin and remove dead skin cells. It contributes to smoother, healthier-looking skin and reduced acne breakouts. Here are the key ingredients in the solution:
Texture
The texture of The Ordinary Salicylic Acid 2% Solution is slightly thick and has a dense consistency. It appears transparent in color. When applying a small amount and massaging it onto the face, you may notice the formation of a temporary white lather. However, this foaming effect quickly dissipates and should not cause concern.
The solution effortlessly glided onto my skin without leaving any stickiness behind. I dispensed a few drops onto my palm and gently patted it over my face.
Packaging
The Ordinary Salicylic Acid 2% Solution comes packaged in a sturdy glass bottle with a sleek matte finish, just like many other products from The Ordinary. The design is straightforward, minimalist, and gets the job done effectively. Moreover, it's a practical choice for travel.
Despite its matte exterior, the bottle remains transparent, allowing you to gauge the remaining solution quickly. The dropper included functions well in dispensing the product, ensuring precise application.
Additionally, the bottle is securely housed within a white cardboard box that provides complete information, including details about the ingredients, product description, and instructions for use.
Fragrance
The product is entirely fragrance-free, and to be honest, I didn't notice any distinct aroma except for a slight resemblance to liquid glue. But here's the good news: the smell fades away in no time as soon as you apply the product. So, you won't have to worry about any lingering fragrance interfering with your skincare routine.
Price and Availability
I adore The Ordinary for its affordability and accessibility, and The Ordinary Salicylic Acid 2% Solution is no exception. Priced at $6.50, it offers fantastic value for its cost. You can achieve results with just a tiny amount of this serum, making it a wise and budget-friendly investment.
The convenience of purchasing this eye serum from reputable retailers like Ulta, Sephora, Amazon or directly from The Ordinary's website adds to its wide availability, ensuring that it's easily accessible to consumers.
My Experience and Results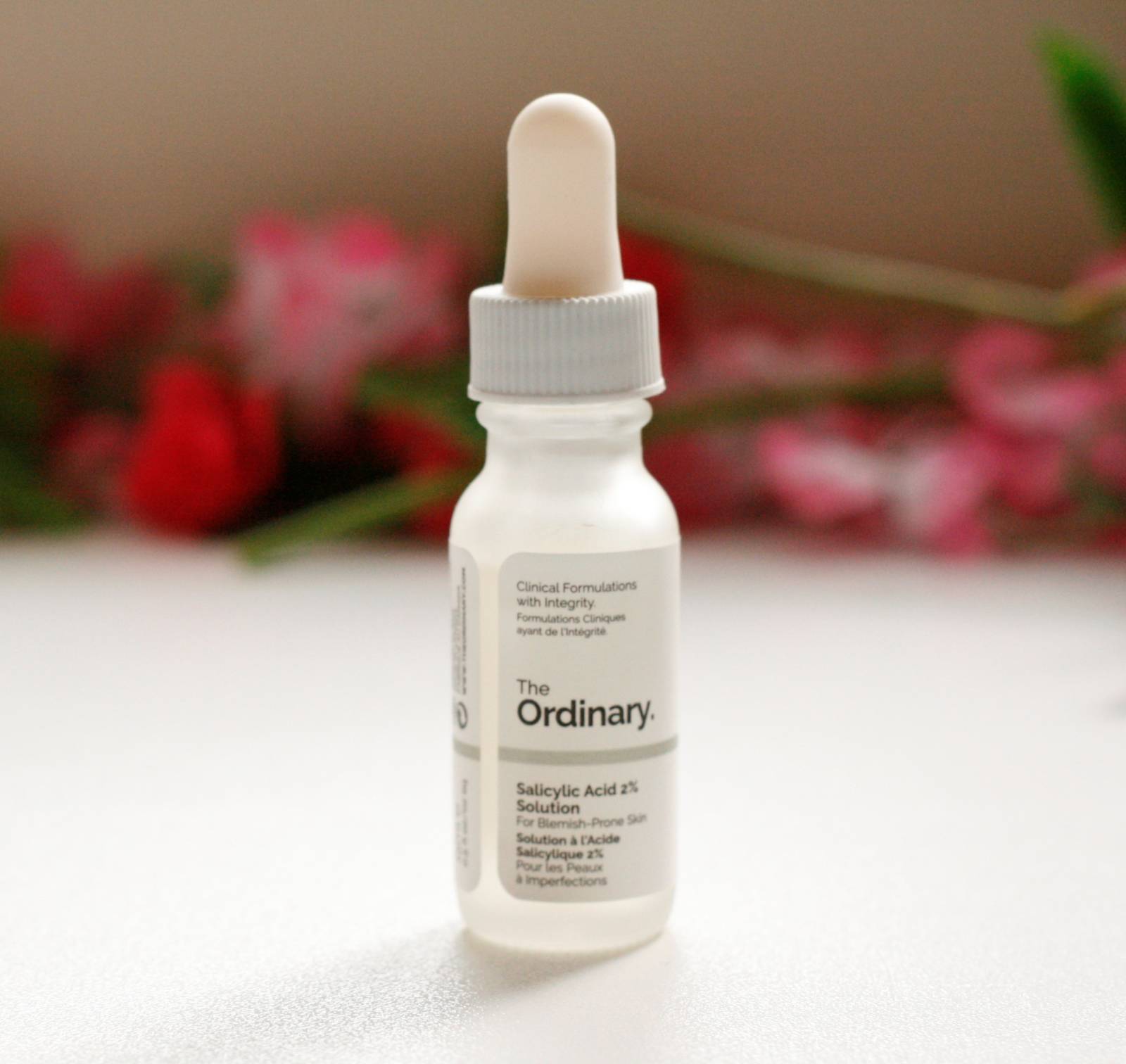 I approached The Ordinary Salicylic Acid 2% Solution with a mix of excitement and apprehension. While I had heard glowing reviews about its effectiveness, I also read warnings about potential purging and dryness. Nevertheless, I decided to give it a go. I used a single drop directly on my breakouts at night, gradually increasing to two drops twice a day all over my face.
Almost immediately, my skin began to purge. It was disheartening, but I remained patient. After about a week and a half, the purging phase subsided, and my breakouts started to fade away, leaving me pleasantly surprised.
However, I couldn't ignore that this solution has a drying effect. Salicylic acid has a knack for drying out the skin from within, which is excellent for targeting blemishes but not ideal for those with dry skin.
Since I fall into the combination skin category, I took precautions to combat the dryness. I layered The Ordinary Niacinamide + Zinc Serum underneath the solution and applied a moisturizer during the day. At night, I followed up with a nourishing facial oil. Thanks to this extra care, I managed to keep my skin hydrated and avoid excessive dryness.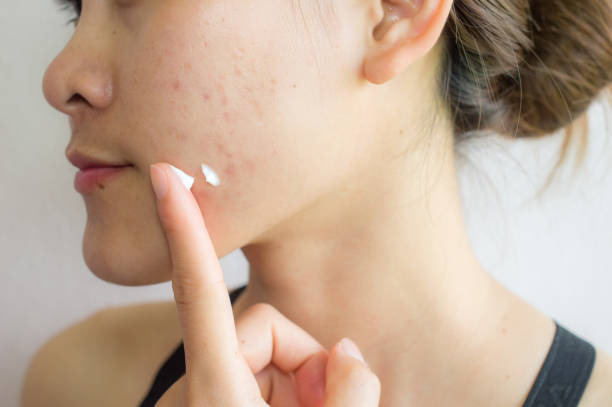 After consistently using The Ordinary Salicylic Acid 2% Solution for about three weeks, I can confidently say that my acne has significantly improved. The breakouts that were causing me distress have vanished, and even when new pimples appear, they tend to disappear within a day.
This solution comes in a generous-sized bottle, and a little goes a long way. So, despite its affordable price, it will last me long. When the time comes, I will certainly repurchase it without hesitation.
Yes, it can be a bit drying, but this 2% salicylic acid solution is much gentler and less drying compared to other serums on the market. Its benefits for my skin outweigh any potential drawbacks, making it a worthwhile addition to my skincare routine.
Suitable Skin Types
The Ordinary Salicylic Acid 2% Solution is designed to cater to various skin types, particularly those struggling with acne and congestion issues. Here's a breakdown of the skin types it works well with:
Oily Skin: The solution is oil-free, making it suitable for oily skin without making it greasier.
Combination Skin: The lightweight texture of the product allows it to work well with combination skin, ensuring balance without over-drying the skin.
Acne-prone Skin: As it helps unclog pores and remove dead skin cells, it is ideal for acne-prone skin, reducing breakouts, and promoting a clearer complexion.
While this product is suitable for various skin types, it's crucial to conduct a patch test before using it to avoid any potential irritation or adverse reaction.
The Ordinary Salicylic Acid 2% Solution: Rating
| | |
| --- | --- |
| Overall Score | 3.9/5 |
| Ingredients | 4.2/5 |
| Texture and application | 3.8/5 |
| Performance | 3.5/5 |
| Price and availability | 4.4/5 |
| Skin Suitability | 3.9/5 |
Benefits and Uses
In this section of The Ordinary Salicylic Acid 2% Solution review, I will share the benefits of this product.
Acne Treatment
The Ordinary Salicylic Acid 2% Solution is known for its acne-fighting abilities. It contains 2% Salicylic Acid, a beta-hydroxy acid (BHA) that penetrates the pores and helps to exfoliate the skin, removing dead skin cells that can lead to breakouts. This serum is suitable for all skin types, including acne-prone and sensitive skin. Its anti-inflammatory properties can help reduce redness and irritation, making it an effective spot treatment for pimples.
Exfoliation and Texture Improvement
Salicylic Acid 2% Solution offers excellent exfoliation benefits. By removing dead skin cells, it helps to improve the texture and appearance of the skin, revealing a clearer and smoother complexion. Moreover, it can brighten the skin and even out skin tone. To apply, simply pat a small amount of the serum onto your face after cleansing, and follow up with your favorite moisturizer.
Addressing Blemishes and Blackheads
This serum is a powerful, yet affordable option for those dealing with blemishes, blackheads, and clogged pores. It works by breaking down and dissolving sebum, which can contribute to pore congestion and breakouts. Additionally, it contains squalane, an emollient that helps to moisturize the skin without causing irritation or dryness.
Overall, The Ordinary Salicylic Acid 2% Solution is an effective and budget-friendly option for addressing a variety of skin concerns. So, whether you are dealing with acne, blemishes, textural irregularities, or simply want to improve your overall skin clarity, this serum might be the right choice for you.
How to Use?
In this section of The Ordinary Salicylic Acid 2% Solution review, I will share how to use this product effectively.
Cleanse your face thoroughly to remove any dirt, makeup, and dead skin cells. Ensure that your face is completely clean and dry before applying the product.
Perform a patch test by applying a small amount of the solution on the inside of your elbow or behind your ear. Wait for 24 hours to check for any adverse reaction or irritation. If your skin tolerates it well, proceed to the next step.
Take a few drops of the solution onto your fingertips or a cotton pad and apply it directly to the problematic areas on your face, such as blemishes and congested pores. You can also use it as a spot treatment on specific areas.
Allow the product to fully absorb into your skin before applying any additional skincare products, such as moisturizers or serums.
Remember to limit your use of the Salicylic Acid 2% Solution to once or twice a week, as overuse might cause irritation.
When to Apply?
The Ordinary Salicylic Acid 2% Solution can be applied during your PM skincare routine. Since it is an exfoliating product, it is advisable to use it at night to minimize sun exposure and give your skin time to heal while you sleep.
Salicylic Acid 2% Solution can be combined with other skincare products like niacinamide, which can further help to improve your skin's texture and appearance. However, be cautious when combining it with other active ingredients, as this may cause irritation or decrease the effectiveness of the products.
Remember to wear sunscreen during the day when using exfoliating products like Salicylic Acid 2% Solution, as they can make your skin more sensitive to the sun.
Potential Conflicts and Precautions
In this section of The Ordinary Salicylic Acid 2% Solution review, I will share conflicts and precautions for this product.
Product Interactions
When using The Ordinary Salicylic Acid 2% Solution, it is essential to be aware of potential product conflicts. Direct Acids, including Salicylic Acid 2%, may not be compatible with some active ingredients in other skincare products. Products that could conflict with Salicylic Acid 2% include:
Paying attention to how your products interact can help you avoid potential irritation or ineffectiveness.
Skin Sensitivities
The Ordinary Salicylic Acid 2% Solution contains Hamamelis Virginiana (Witch Hazel) Leaf Water, which can be sensitizing for some individuals. If you are unsure about your skin's reaction, perform a patch test before applying the product to your entire face.
Retinoids are a class of skincare ingredients known to cause sensitivity in some people. If you are using retinoids concurrently with The Ordinary Salicylic Acid 2% Solution, proceed with caution and monitor your skin closely for signs of irritation. If irritation occurs, you may need to adjust the frequency of use or discontinue one of the products.
Alternatives to The Ordinary Salicylic Acid 2% Solution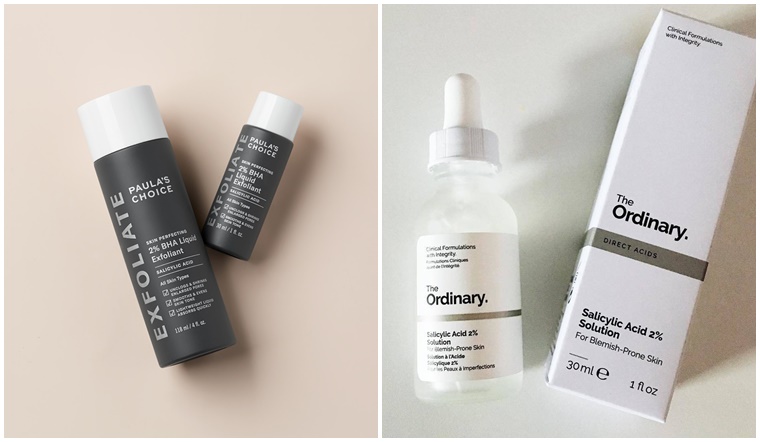 The Ordinary Salicylic Acid, 2% Solution, is a great product; however, if due, for any reason, you don't like its performance or want to try other salicylic acid products, these are some excellent alternatives:
Paula's Choice Skin Perfecting 2% BHA Liquid: This popular exfoliating solution contains salicylic acid to unclog pores and smooth skin texture.
COSRX BHA Blackhead Power Liquid: Formulated with betaine salicylate, this gentle yet effective solution targets blackheads and helps improve overall skin clarity.
La Roche-Posay Effaclar Clarifying Solution: This toner combines salicylic acid with soothing ingredients to minimize breakouts, reduce excess oil, and refine pores.
Neutrogena Oil-Free Acne Stress Control Triple-Action Toner: With salicylic acid as its main ingredient, this toner helps fight acne while calming and refreshing the skin.
Mario Badescu Anti-Acne Serum: This serum features salicylic acid and other botanical extracts to target breakouts and promote a clearer complexion.
You can try any of these products. However, my favorite is Paula's Choice Skin Perfecting 2% BHA Liquid because its gentle formula suits even sensitive skin types.
Conclusion
The Ordinary Salicylic Acid 2% Solution deserves the ultimate salicylic acid serum title for combating acne and its aftermath. It boasts a well-formulated, non-irritating, and oil-free formula that delivers impressive results. What's even better is the exceptional value you get for the price.
A little goes a long way with this product, meaning it lasts for an extended period as only a small quantity is needed for each use. Try this one if you want to incorporate a salicylic acid serum into your skincare routine.
I hope you find my The Ordinary Salicylic Acid 2% Solution review helpful. Which product from The Ordinary is your favorite? Tell me in the comment section!