The skincare products from The Ordinary are reasonably priced and of excellent quality. They provide a wide range of formulations to cater to different skin types. One of its famous products is The Ordinary Glycolic Acid 7% Toning Solution, an exfoliating acid.
This product addresses various skin concerns, including acne, dullness, sun damage, and wrinkles. It is making waves in the beauty world for its reported remarkable effects on skin texture and appearance. As an affordable and effective toning solution, it has a loyal following of skincare enthusiasts who swear by its results.
My first product from this company is The Ordinary Glycolic Acid Solution. It also represents my debut in chemical exfoliation, a gentler form of exfoliating the skin that results in the healthiest shine.
In this article, I will provide a detailed The Ordinary Glycolic Acid 7% Toning Solution review, including its key ingredients, benefits, usage experience, ratings, and more.
The Ordinary Glycolic Acid 7% Toning Solution Review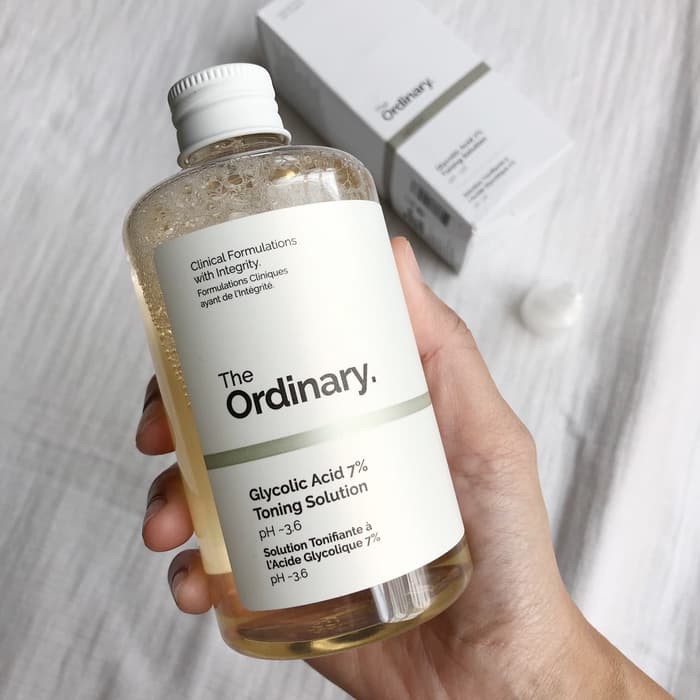 The Ordinary Glycolic Acid 7% Toning Solution is an affordable skincare product designed to exfoliate, refine skin texture, and boost radiance. This powerful toner is suitable for most skin types, as it contains a blend of natural ingredients that work together to improve the appearance of skin texture, reduce the signs of aging, and reveal a brighter complexion.
At the core of this product is its 7% glycolic acid concentration, an ingredient that effectively exfoliates the skin, revealing a smoother, more even surface. This watery solution is applied to the skin with a cotton pad after cleansing, absorbing easily and providing an instant tingling sensation, which some sensitive skin types may feel. Let's learn more about The Ordinary Glycolic Acid 7% Toning Solution review.
Key Ingredients
The Ordinary Glycolic Acid 7% Toning Solution features a blend of beneficial ingredients, including:
Glycolic Acid (7%): A powerful exfoliating agent that reduces texture irregularities, minimizes visible pores, and promotes smoother, firmer skin.
Aqua: The base ingredient in many skincare products, providing hydration and acting as a vehicle for other key ingredients.
Tasmannia Lanceolata Fruit/Leaf Extract: A Tasmanian pepperberry extract that soothes the skin and reduces irritation caused by acid exfoliation.
Triethanolamine: A pH adjuster that helps to maintain an acidic pH of 3.5-3.7, ensuring product efficacy.
Sodium Lactate: A moisturizing agent that helps to keep the skin hydrated and prevent dryness.
Aloe Barbadensis Leaf Water: A soothing ingredient that calms irritation and provides additional hydration.
Rosa Damascena Flower Water and Centaurea Cyanus Flower Water: Floral waters that offer skin-soothing and antioxidant properties.
Propanediol and Glycerin: Humectants that help to draw moisture into the skin, improving hydration and overall skin health.
Consistency
The consistency of ordinary glycolic acid is very thin and watery. It's the same as putting pure water on a cotton pad, except that the Glycolic Acid is somewhat yellow. I waited approximately a minute after applying the toner for it to seep into my skin properly. I didn't notice any residue or film on my skin, although it did feel a little sticky as it dried. But the stickiness was gone once I used my moisturizer.
Fragrance
The product contains no additional scent or essential oils, which is good because it reduces discomfort. If anything, it has a very little vinegary odor – and I mean very slight. There is nothing to be concerned about.
Packaging
The packaging of The Ordinary Glycolic Acid Toner consists of a transparent plastic bottle with a screw-shut metal lid. However, what caught my attention was the plastic nozzle dispenser attached to it. This dispenser slows down the product flow, preventing any messy spills.
While it may not boast fancy packaging, I adore The Ordinary's minimalist branding and find it quite pleasing to see the bottle sitting on my bathroom shelf.
Speaking of the bottle, it's pretty sizable, containing 240ml of product. Surprisingly, it lasts forever. I've been using it at least twice a week, generously applying it on my face, feet, and arms. Even after six months of use, I still have approximately half a bottle left.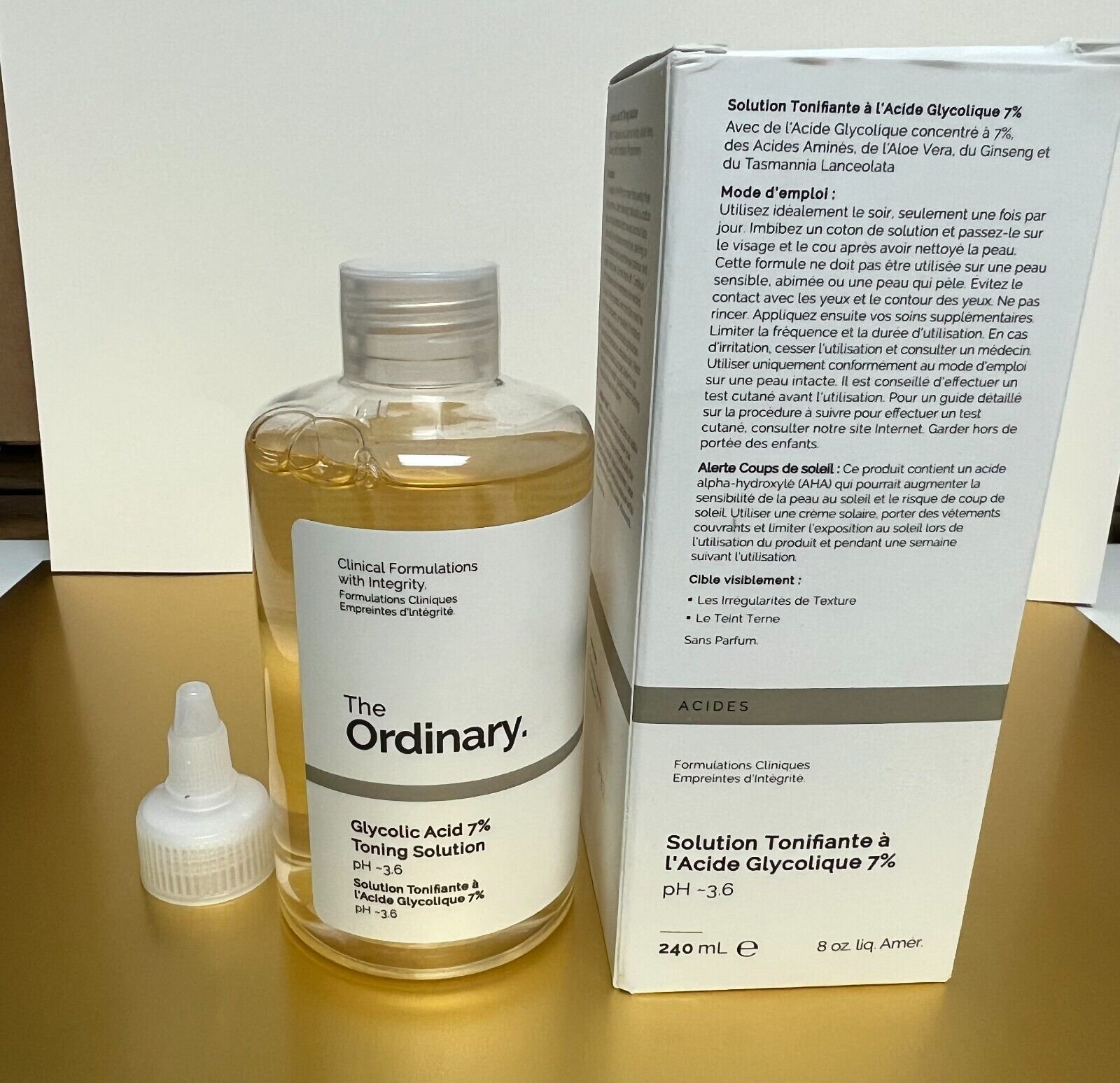 Application
When you first begin, apply the glycolic acid toner two to three times per week after cleaning your face at night. This frequency is sufficient regardless of the chemical exfoliant used. I usually take some product in my palm and pat it on my skin. However, you can also use a cotton pad. If the stinging is too intense, apply a layer of moisturizing toner or essence before applying glycolic acid.
My Experience & Results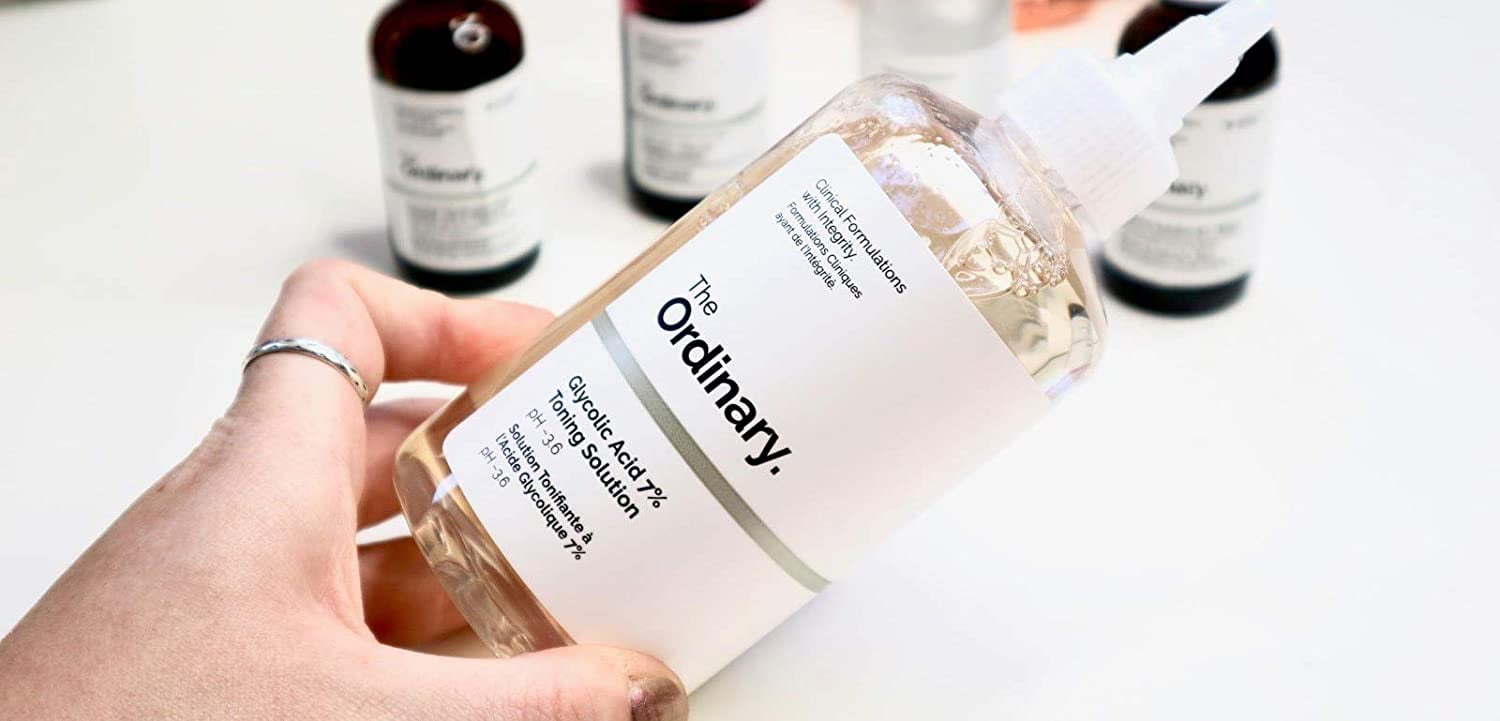 Upon applying this glycolic acid toner, I experienced a sensation of heat and stinging for the first 10-15 minutes. The intensity of this sensation was around my mouth area, and it persisted for the first few days of use. Additionally, I observed that the toner left a slightly sticky residue on my naturally oily skin.
However, the tingling sensation reduced considerably after a few days, and the stickiness diminished. As I grew accustomed to this glycolic acid toner, I no longer experienced any tingling; I felt a gentle warmth for the first 2-3 minutes upon application.
It is important to note that everyone's skin sensitivity varies, so the duration and intensity of stinging may differ for individuals. Glycolic acids cause slight irritation until the skin develops tolerance initially. In my personal experience, my skin felt noticeably softer and clearer from the first few uses.
I struggled with whiteheads and skin congestion, but consistent use of the glycolic acid toner has significantly reduced these issues. Rough texture has become virtually nonexistent.
Not only has this toner improved the smoothness of my skin, but it has also imparted a radiant glow. I have observed a more even skin tone and a reduction in pigmentation.
Does it work for acne?
I have dealt with blackheads and congestion, but when it comes to my stubborn hormonal acne, The Ordinary Glycolic Acid Toning Solution alone didn't provide the desired results.
If you're struggling with your skin, I would recommend relying on something other than this product as an acne treatment. You'll likely achieve better results with retinol/retinoids, tretinoin, or other prescription-strength acne treatments.
However, if your acne is mild, and blackheads and congestion are your main concerns, it's definitely worth trying—just remember to use it consistently. Regularly getting rid of dead skin cells often provides a simple solution for these problems.
The Ordinary Gycolic Acid Toner: Rating
| | |
| --- | --- |
| Overall Score | 4.5/5 |
| Key Ingredients | 4.6 |
| Texture & Absorption | 4.5 |
| Packaging | 4.4 |
| Price | 4.4 |
| Performance | 4.6 |
Benefits and Usage
Skin Clarity and Tone
The Ordinary Glycolic Acid 7% Toning Solution contains glycolic acid, a powerful alpha hydroxy acid (AHA) that effectively targets dullness and uneven skin tone. With regular use, this toner helps improve skin clarity and brightness, leaving the skin looking more radiant. Here are some key benefits:
Glycolic acid: Provides exfoliation and promotes cell turnover
Aloe vera: Soothe sensitive skin
Ginseng: Revitalizes and energizes skin
Make sure to cleanse your face thoroughly before applying the toner with a cotton pad, as it will ensure better absorption of the solution.
Exfoliating and Correcting Texture
This toning solution is an excellent exfoliant, designed to improve texture irregularities and smoothen the skin's surface. The tingling sensation you might feel is due to the acidic pH of 3.5-3.7, which ensures efficient exfoliation without causing excessive irritation. Some tips for usage include:
Apply it with a cotton pad after cleansing
Be gentle when using the solution
Don't forget to use sunscreen during the day, as AHAs can increase sun sensitivity
Signs of Aging
The Ordinary Glycolic Acid 7% Toning Solution can help reduce signs of aging, such as wrinkles and sun spots. By promoting cell turnover, it enables the skin to renew itself more effectively, leading to a smoother and firmer appearance. Use the toner consistently for better results:
Apply daily at night
Be patient and give it some time
Incorporate other skincare products, such as niacinamide, to enhance the benefits
Remember that consistency and patience are key when using this toning solution. Taking care of your skin is a lifelong commitment. For more information about glycolic acid and its benefits, you may visit an authoritative site in the beauty niche, such as Beauty Insider.
How to Use?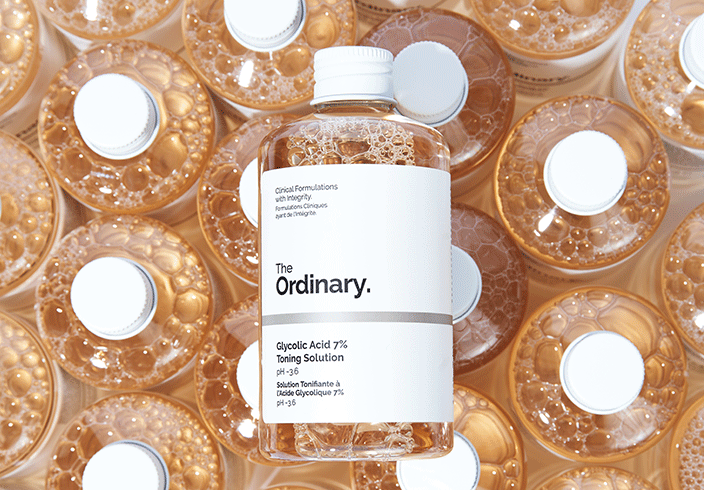 Application Process
To use The Ordinary's Glycolic Acid 7% Toning Solution, follow these steps for an effective skincare routine:
Cleanse your skin: Start by cleansing your skin with a gentle, suitable cleanser to remove impurities and prepare it for the toning solution. You may consider using a cleanser from The Ordinary's product line for better compatibility, but it's not mandatory.
Apply the toning solution: After cleansing, dampen a cotton pad with the Glycolic Acid 7% Toning Solution. Gently sweep the pad over your face, focusing on areas with textural irregularities. Avoid using it on broken, irritated, or overly sensitive skin.
Let the product sink in: Allow the toning solution to absorb into your skin. You might feel a slight tingling sensation due to the acidic pH (3.5-3.7) of the product, which is normal.
Moisturize: Follow up with a suitable moisturizer to keep your skin hydrated and complete your skincare routine.
Sun protection: As a precaution, apply a broad-spectrum sunscreen during the day, as glycolic acid may increase your skin's sensitivity to the sun.
Precautions
Do not use the Glycolic Acid 7% Toning Solution on broken, irritated, or overly sensitive skin.
Conduct a patch test before using the product to check if you might have an allergic reaction to any of the ingredients, such as glycolic acid, triethanolamine, or sodium lactate.
Avoid using other strong exfoliants or skincare products that may sensitize your skin, such as strong retinoids, when incorporating the toning solution into your routine.
Consult a dermatologist or skincare expert if you're unsure about adding glycolic acid products to your regimen or experiencing adverse reactions.
Remember, consistency is key when using The Ordinary's Glycolic Acid 7% Toning Solution. With regular use, you can expect to see improvements in your skin texture, a reduction in visible pores, and a smoother, firmer complexion. The toning solution may also help lighten acne scars on the face and back areas. Keep your skincare routine gentle and nourishing to see the best results.
Additional Ingredients and Functions
The Ordinary Glycolic Acid 7% Toning Solution is formulated with a range of beneficial and functional ingredients. In this section, we'll dive into some of the key additional ingredients that work hand-in-hand with glycolic acid to provide a smoother, balanced, and radiant complexion.
Aloe Barbadensis Leaf Water, also known as aloe vera, is renowned for its soothing properties. This ingredient helps to counteract potential irritation associated with glycolic acid use and leaves your skin feeling refreshed and comfortable.
Another standout ingredient is Panax Ginseng Root Extract which is known for its energizing and revitalizing effects. It helps promote skin health and improve skin elasticity, contributing to a firmer-looking complexion.
The Toning Solution contains a blend of vital amino acids, including:
Aspartic Acid
Alanine
Glycine
Serine
Valine
Isoleucine
Proline
Threonine
Histidine
Phenylalanine
Glutamic Acid
Arginine
PCA
These amino acids work together to strengthen the skin's structure, retain moisture, promote collagen production, and improve skin elasticity. Furthermore, Sodium PCA, Fructose, Glucose, Sucrose, and Urea in the formulation act as humectants, helping the skin to retain moisture and stay hydrated.
Hexyl Nicotinate and Dextrin play crucial roles in supporting skin health. Hexyl Nicotinate boosts blood circulation, enhancing the appearance of a healthy complexion, while Dextrin helps improve the skin's texture and tone.
The solution is formulated with Polysorbate 20 and Gellan Gum, which function as emulsifiers, ensuring the toning solution glides easily onto the skin and is absorbed effectively. Trisodium Ethylenediamine Disuccinate, Sodium Chloride, Hexylene Glycol, Sodium Benzoate, 1,2-Hexanediol, Caprylyl Glycol, and Aqua (Water) are also present in the formulation. These ingredients contribute to maintaining the product's stability and safety, ensuring optimal performance and quality.
In summary, The Ordinary's Glycolic Acid 7% Toning Solution contains a powerful combination of glycolic acid, skin-soothing agents, and hydrating ingredients that work together to improve skin texture, radiance, and overall complexion. Formulated without any potential irritants and with a friendly, easily-absorbed texture, this product is suitable for a wide variety of skin types.
User Reviews and Experience
Here are The Ordinary Glycolic Acid 7% Toning Solution reviews:
Positive Feedback
Many users in The Ordinary Glycolic Acid 7% Toning Solution reviews have reported positive experiences with The Ordinary Glycolic Acid 7% Toning Solution. They mention noticing smoother and firmer skin after incorporating the exfoliating toner into their skincare routine.
Some users even noticed a significant reduction in visible pores and improvement in overall skin texture. Acne scars on both the face and back areas have been said to lighten after regular use of this product.
The toner has a light, watery texture which is easily absorbed into the skin when applied with a cotton pad after cleansing. Despite having an acidic pH of 3.5-3.7, many users with sensitive skin have not experienced a negative reaction to the formula.
Negative Feedback
While the majority of The Ordinary Glycolic Acid 7% Toning Solution reviews tend to be positive, there have been a few less favorable experiences. Some users reported mild irritation or stinging sensation, particularly on sensitive skin types. However, this is typically expected with glycolic acid products and might not necessarily indicate an issue with the toner itself.
In a small percentage of cases, users didn't experience the same level of skin clarity improvements as reported by others. These mixed results could be attributed to individual differences in skin type and skincare routines.
Remember to patch test new products, especially those with active ingredients like glycolic acid, to ensure compatibility with your skin type.
Alternatives to The Ordinary Glycolic Acid 7% Toning Solution
As someone who has explored different skincare options, I've come across a few alternatives to The Ordinary Glycolic Acid 7% Toning Solution that you might find interesting:
Paula's Choice Skin Perfecting 8% AHA Gel Exfoliant: This gel exfoliant contains 8% glycolic acid and aims to remove dead skin cells gently, unclog pores, and improve skin texture. It's a suitable alternative for those seeking effective exfoliation without irritation.
Pixi Glow Tonic: This cult-favorite toner features 5% glycolic acid along with soothing botanical extracts. It helps to brighten the complexion, refine skin texture, and facilitate a more even skin tone. It's a milder option that can be suitable for those with sensitive skin.
The Inkey List Glycolic Acid Toner: With a 10% glycolic acid concentration, this toner offers a higher-strength alternative for more intense exfoliation. It helps to remove dead skin cells, minimizes pore appearance, and enhances skin radiance.
The Inkey List Glycolic Acid Toner is my favorite product of all these alternatives. It has higher (10%) glycolic acid, which provides more intense exfoliation. However, if you're a newbie, I suggest trying Pixi Glow Tonic with 5% glycolic acid, which offers gentle exfoliation.
Conclusion
If you want to enhance skin radiance and address concerns like fine lines, dullness, and signs of aging, The Ordinary's glycolic acid toner is a fantastic option to include in your skincare routine. Now, the question is, is The Ordinary glycolic acid toner worth it? In my opinion, it absolutely is. Not only is it user-friendly and affordable, but it also delivers results comparable to pricier exfoliators.
However, if you have dry or sensitive skin that cannot tolerate glycolic acid – The Ordinary offers a range of other acids. They have various acid formulations, each varying in strength, allowing you to find the perfect match for your skin type. Are you also a fan of The Ordinary products? Tell me in the comment section.
I hope The Ordinary Glycolic Acid 7% Toning Solution review answers all your queries.
FAQs
What is Glycolic acid?
Glycolic Acid is the smallest AHA that penetrates the skin and exfoliates dead skin cells on the skin's surface. This substance is a multitasker; it exfoliates the skin while increasing radiance and restoring skin clarity.
Where can I buy The Ordinary Glycolic Acid 7% Toning Solution?
The Ordinary Glycolic Acid 7% Toning Solution is available at Ulta, Sephora, Target, and The Ordinary's website.
What is the price of The Ordinary Glycolic Acid Toner?
The Ordinary Glycolic Acid Toner is available for $13 for 240ml (8oz).
Can I use Glycolic Acid Toner daily?
Yes, you can apply The Ordinary Glycolic Acid Toner every day, but no more than once per day. When using this toner, you should also conclude your skin care regimen with sunscreen daily, as glycolic acid might make your skin more sensitive to the sun.