Facial cleanser deserves a heartfelt appreciation for all that it does. While the spotlight often shines on serums and trendy masks, it's the unsung skincare hero, diligently keeping our skin clean and balanced.
The Ordinary skincare line has truly mastered the art of creating simple and effective products while remaining incredibly affordable. Alongside their renowned serums and treatments, The Ordinary offers this non-foaming cleanser that has been making waves.
As someone who has eagerly explored every nook of The Ordinary's product range, I couldn't resist sharing my thoughts on their highly praised Squalane Cleanser. Priced at just $8, it has sparked considerable hype on the internet, with countless rave reviews popping up on Sephora, Ulta, and The Ordinary's own website. And let me tell you: it lives up to the hype.
In The Ordinary Squalane Cleanser review, I'll delve into my experience with this wallet-friendly cleanser, helping you decide whether it's worth giving it a go.
The Ordinary Squalane Cleanser Review
What is it?
The Ordinary Squalane Cleanser is a popular facial cleanser designed to gently remove makeup, dirt, and oil while leaving the skin feeling soft, smooth, and hydrated. This cleanser is suitable for all skin types, as it is non-comedogenic and soap-free, ensuring that it won't clog your pores or strip your skin of its natural moisture. Let's learn more about The Ordinary Squalane Cleanser review.
Key Ingredients
There are a few primary ingredients in The Ordinary Squalane Cleanser that contribute to its effectiveness and benefits. These include:
Squalane: A natural lipid produced by human skin cells and a component of human sebum. It helps maintain the skin's moisture barrier and keeps the skin feeling smooth and soft.
Lipophilic esters: These esters help dissolve makeup, dirt, and other facial impurities while moisturizing the skin.
Glycerin: This ingredient helps to attract and retain moisture in the skin, which can make it feel more hydrated and supple.
Tocopherol (Vitamin E): A natural antioxidant that helps protect the skin from environmental stressors and contributes to overall skin health.
Hydroxymethoxyphenyl Decanone: A synthetic compound with antioxidant properties that helps to soothe the skin and reduce inflammation.
The combination of these ingredients in The Ordinary Squalane Cleanser helps to effectively cleanse your skin of impurities without causing irritation or compromising your skin's natural moisture barrier.
Packaging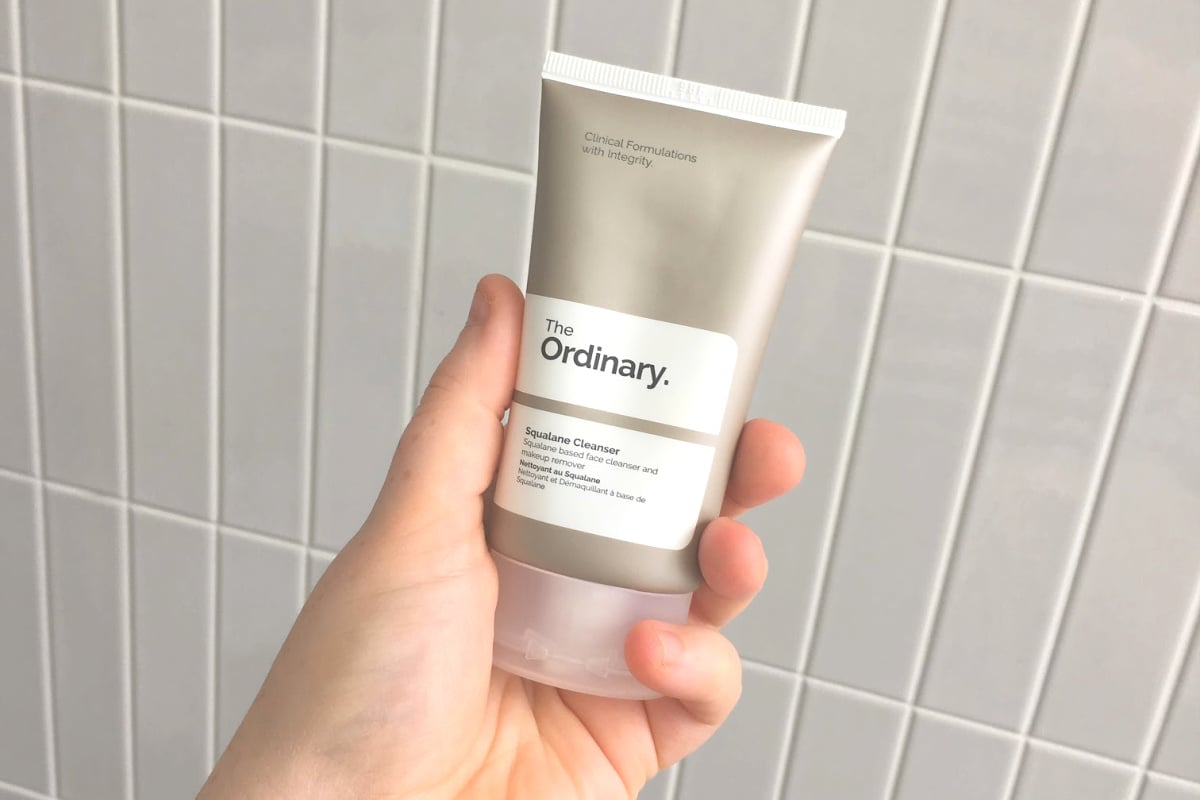 The Squalane Cleanser comes in a sleek, minimalist classic grey tube, reflecting The Ordinary's signature no-frills aesthetic. The packaging is practical and easy to use, allowing for precise dispensing.
Its compact size makes it fit for travel, ensuring you can maintain your skincare routine. Many other cleansers come in a jar or tub, but I prefer a tube over a jar as it is more convenient.
Texture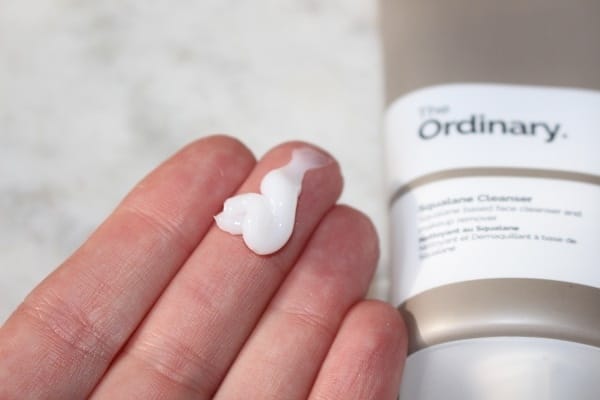 Upon squeezing the cleanser out of the tube, I noticed its rich, balmy texture. It transforms into an oil-like consistency when massaged onto dry skin. The luxurious formula spreads effortlessly, dissolving makeup, dirt, and impurities. The absence of foam makes it suitable and gentle for all skin types.
Simply melt the cream between your palms for a few extra seconds. Once it transforms into a silky texture, it effortlessly spreads and massages onto the skin.
Fragrance
The fragrance-free nature of the cleanser is something I greatly appreciate. Nowadays, I exclusively opt for fragrance-free products in my skincare routine. Fragrance can be the most irritating component in skincare, and I don't necessarily require my skincare products to have a floral or fragrant aroma. Therefore, this aspect of The Ordinary Squalane Cleanser works perfectly for me.
However, if scent plays a significant role in your skincare experience, this might be a dealbreaker for you.
How to use?
In my double cleansing routine, I incorporate The Ordinary Squalane Cleanser as my first cleanser, followed by a gel or foam-based cleanser. This combination has proven to be the most effective for my oily, acne-prone skin.
You may skip the second cleansing step on regular days for those with dry skin that doesn't experience acne or pore-clogging issues. The Squalane Cleanser provides a moisturizing sensation to the skin upon rinsing, offering a sufficient cleanse.
Here's my preferred method of using the cleanser:
Dispense a dime-sized amount of the cleanser and rub it between your palms for a few seconds to allow it to melt slightly.
Massage the cleanser over your face, ensuring it breaks down makeup, waterproof sunscreen, impurities, and other residues.
Once everything has melted, wet your hands and continue massaging to create a slightly milky texture. Note that this cleanser doesn't emulsify extensively.
Rinse off the cleanser using water or a washcloth, leaving your skin feeling refreshed and clean.
Following these steps, you can use The Ordinary Squalane Cleanser in your skincare routine, tailored to your skin needs and preferences. The image below shows the directions given by The Ordinary for using Squalane cleanser.
Price and Availability
One of the standout aspects of The Ordinary is its affordability, and the Squalane Cleanser is no exception. Priced at just $9, it offers exceptional value for the quality and effectiveness it delivers. A little goes a long way, and the tube lasts for months, making it a budget-friendly choice without compromising results. You can buy this cleanser at Ulta, Sephora, Amazon, or The Ordinary's website.
My Experience and Results
After incorporating The Ordinary Squalane Cleanser into my skincare routine for a significant period, I noticed consistent positive results. My complexion appeared clearer, smoother, and more balanced.
I appreciated how my skin felt refreshed and hydrated without any residual greasiness. Additionally, I observed a reduction in breakouts and congestion, which is crucial for my acne-prone skin. While removing makeup, I noticed that it sometimes leaves a bit of mascara and eyeliner behind, which is worth noting as it sells as a makeup remover.
The Squalane Cleanser did not emulsify when water was added. While this did not impact its cleansing effectiveness, it might be a preference for some users to have a more milky or foaming consistency during rinsing.
The cleanser is fragrance-free, which benefits those with sensitivities or a preference for odorless products. However, the lack of scent options may be a downside if you enjoy skincare products with a pleasant fragrance.
In my experience, The Ordinary Squalane Cleanser lived up to the hype surrounding it. Its creamy texture, cleansing power, and gentle nature make it a good cleanser that does its job well.
The Ordinary Squalane Cleanser: Rating
| | |
| --- | --- |
| Overall Score | 4.1/5 |
| Key Ingredients | 4.5/5 |
| Texture & Absorption | 3.8/5 |
| Price | 4.0/5 |
| Packaging | 4.2/5 |
| Performance | 4.0/4 |
Benefits of The Ordinary Squalane Cleanser
The Ordinary Squalane Cleanser is a versatile skincare product that offers numerous benefits for various skin types. For those with sensitive skin, this cleanser is particularly gentle and non-irritating. Thanks to its soap-free, non-comedogenic formula, it's suitable for both acne-prone and dry skin types as well.
One of the key benefits of this cleanser is its ability to effectively clean the skin while preserving its natural moisture barrier. This is achieved through the use of hydrating ingredients such as squalane and glycerin. Squalane, in particular, is a lipid naturally produced by human skin cells and is a component of human sebum, contributing to healthy skin.
Moreover, the cleanser is adept at removing makeup, dirt, and excess oil from the skin without causing any redness or irritation. For those struggling with acne or breakouts, The Ordinary Squalane Cleanser can be a helpful addition to their skincare regimen, as it's gentle on the skin and doesn't contain any harsh ingredients that could potentially aggravate acne-prone skin.
In addition to these benefits, the cleanser is quite affordable, with a price of around $8. This makes it accessible for a wide range of skincare enthusiasts, from beginners to more experienced users who wish to incorporate it into their routine for improved skin health.
Drawbacks of The Ordinary Squalane Cleanser
The Ordinary Squalane Cleanser may not be suitable for individuals seeking a foaming face wash as it cannot create foam or produce bubbles during use.
Additionally, the cleanser does not eliminate all traces in one go when removing heavy makeup, including eye makeup and mascara. Try cleaning twice with the Squalane Cleanser or following up with another cleanser to ensure thorough makeup removal.
While the smaller cleanser tube is affordable ($9), offering 1.7 oz of product, note that a larger 5.0 oz tube is available at a higher price, nearly $20. This larger option may not be the most budget-friendly choice compared to other products offered by The Ordinary.
Suitable for All Skin Types
The Ordinary Squalane Cleanser is a gentle and versatile skincare product designed to cater to diverse skin types. In this section, I will explore its benefits for dry, oily, combination, and acne-prone skin.
Dry Skin
The most concentrated ingredient in the cleanser is squalane, which is highly regarded for its emollient properties. As an effective moisturizer, it helps hydrate and condition dry skin without making it feel greasy. Moreover, its antibacterial properties make it safe for sensitive skin, ensuring that it leaves your skin nourished and irritation-free.
Oily Skin
Although it might seem counterintuitive to use an oil-based cleanser on oily skin, the Squalane Cleanser actually plays a significant role in regulating sebum production. With a non-comedogenic formulation, it effectively removes excess oil and dirt without clogging pores. Additionally, it leaves zero residue after washing, ensuring that your skin feels clean and balanced.
Combination Skin
For those with combination skin, it can be challenging to find a cleanser that addresses both oily and dry areas effectively. Squalane Cleanser's pH-balanced formula (5.50-6.50) works well on varying skin types, successfully eliminating impurities while hydrating drier sections on the face.
Acne-Prone Skin
Being non-comedogenic, soap-free, vegan, and cruelty-free, the Squalane Cleanser proves to be a suitable option for acne-prone skin. Its gentle nature ensures that it cleanses without causing irritation, making your skin feel clean and balanced However, it may sometimes leave a bit of mascara behind, so you might want to use a specific eye makeup remover for thorough cleansing.
Alternatives to The Ordinary Squalane Cleanser
If you're considering alternatives to The Ordinary Squalane Cleanser, several options in the market offer different formulations and features. Here are a few other options worth exploring:
CeraVe Hydrating Facial Cleanser: This gentle, non-foaming cleanser has ceramides and hyaluronic acid to hydrate and nourish the skin while effectively removing dirt and makeup. It is suitable for all skin types.
La Roche-Posay Toleriane Hydrating Gentle Cleanser: Designed for sensitive and dry skin, this creamy cleanser provides gentle yet effective cleansing while maintaining the skin's moisture barrier. It is free from fragrances, sulfates, and soap, making it suitable for sensitive skin.
Neutrogena Ultra Gentle Daily Cleanser: This fragrance-free, non-foaming cleanser is formulated with a hypoallergenic formula suitable for sensitive skin. It effectively cleanses without over-drying or stripping the skin of its natural oils.
Clinique Take The Day Off Cleansing Balm: If you prefer a balm texture for makeup removal, this Clinique offering is a popular choice. When applied, it transforms from a solid balm into a silky oil, effectively melting away makeup and impurities.
Remember to consider your specific skin type, concerns, and preferences when selecting an alternative cleanser. It's always a good idea to patch-test and read reviews to find the best match for your needs.
Conclusion
Overall, The Ordinary Squalane Cleanser effectively fulfills its purpose as a cleanser. Its creamy texture, nourishing ingredients, and convenient packaging contribute to its appeal.
Although this facial cleanser performs well on my skin, several other options available for initial makeup removal are more budget-friendly. Hence, I may reserve this cleanser when my skin feels dehydrated and sensitive and needs additional moisture.
The Ordinary Squalane Cleanser is worth considering if you are searching for an affordable, straightforward cleanser that effectively dissolves makeup and impurities, leaving your skin feeling soft and supple. I hope you find The Ordinary Squalane Cleanser review helpful!