No matter your skin type, maintaining hydration and a strong skin barrier is essential. That's where The Ordinary Natural Moisturizing Factors + HA comes in. This incredible moisturizer is specially formulated to cater to those needs. Packed with active ingredients, including the powerhouse hyaluronic acid, it works tirelessly to hydrate, moisturize, and plump your skin.
The Ordinary skincare line has mastered creating simple and effective products while remaining incredibly affordable. As someone who has explored various products from The Ordinary, I felt it was time to share my journey with their exceptional cream moisturizer.
In The Ordinary Natural Moisturizing Factors + HA review, I will delve into my own product experience, the price point, the benefits it offers, any potential drawbacks, and much more.
The Ordinary Brand Overview
The Ordinary is a popular skincare brand known for its affordable and effective products. They focus on providing targeted treatments with high-quality ingredients, ensuring that their customers receive the best possible results. The brand is part of the Deciem family, which includes other notable beauty brands such as NIOD, Hylamide, and The Chemistry Brand.
One of the standout features of The Ordinary is their transparency regarding the ingredients used in their products. They provide detailed information about the function of each component, helping customers make informed choices about the skincare products they use. This approach has garnered a loyal following, with many users appreciating the brand's honesty and simplicity.
The Ordinary offers a wide range of skincare products, including serums, acids, oils, and moisturizers. They cater to various skin concerns, such as acne, aging, pigmentation, and dryness. Some of their best-selling products include Niacinamide 10% + Zinc 1%, Hyaluronic Acid 2% + B5, and their AHA 30% + BHA 2% Peeling Solution.
With an emphasis on high-quality, scientifically-backed ingredients, The Ordinary is revolutionizing the skincare market. By making effective formulations accessible to a wider audience, they continue to grow in popularity as a go-to choice for many beauty enthusiasts.
The Ordinary Natural Moisturizing Factors + HA Review
The Ordinary Natural Moisturizing Factors + HA is a non-greasy moisturizer is packed with special hydrating compounds, amino acids, and hyaluronic acid, which work together to provide immediate and long-lasting hydration, as well as to protect the skin against moisture loss.
One of the key components of this moisturizer is hyaluronic acid (HA), a naturally occurring substance in our skin that holds onto water, keeping it plump and hydrated. However, as we age, our skin's production of HA begins to decline, leading to signs of aging, such as fine lines and wrinkles.
The inclusion of HA in The Ordinary's moisturizer helps to replenish the hydration your skin needs and maintains its youthful appearance.
The Ordinary Natural Moisturizing Factors + HA also contains multiple amino acids, such as arginine, histidine, and proline, which play a crucial role in skin repair and protection. These ingredients help restore visible skin damage, soothe the skin, provide antioxidant benefits, and strengthen the skin's surface, making fine lines and wrinkles appear less deep.
This powerful combination of ingredients makes this moisturizer an excellent option for those looking for effective hydration at an affordable price point.
Ingredients and Benefits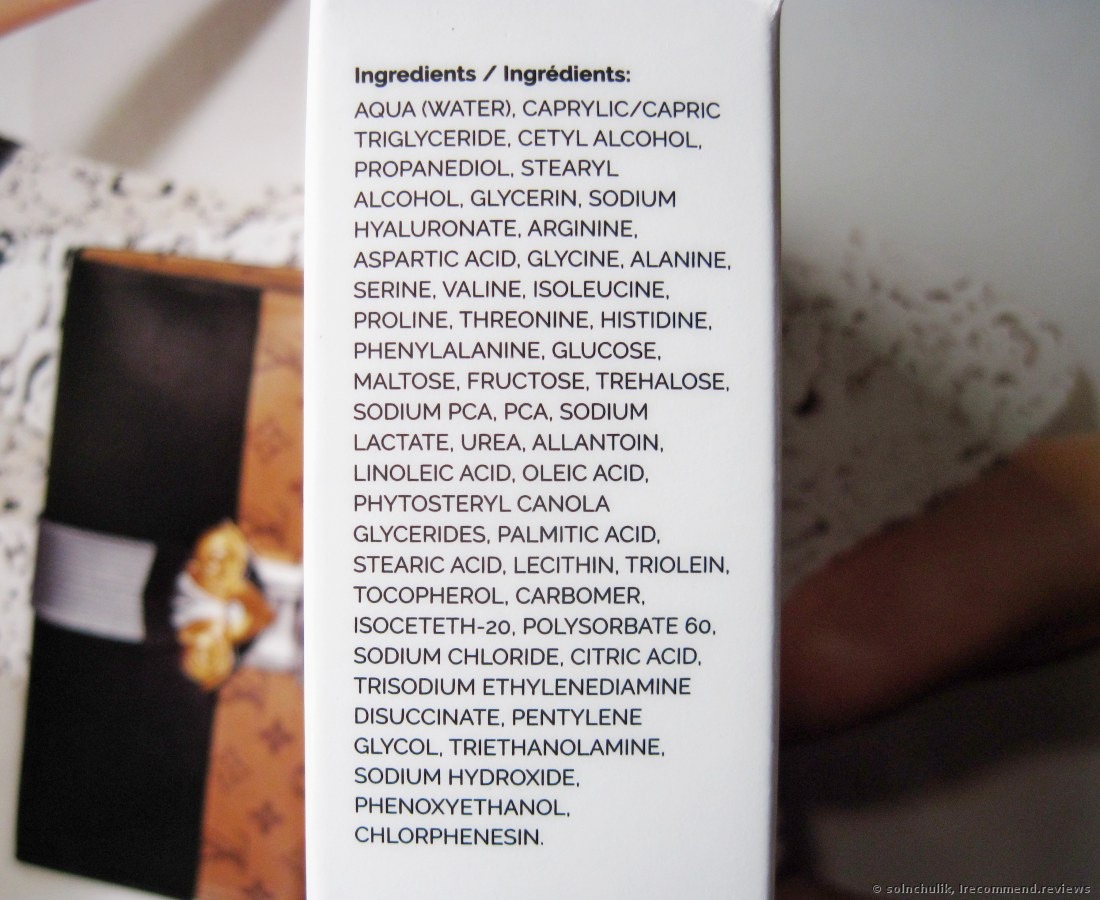 The Ordinary Natural Moisturizing Factors + HA is a product full of beneficial skincare components that work together to keep the skin hydrated, moisturized, and healthy. The ingredients provide a range of benefits, making them a perfect combination for effective skin moisturizing.
Hyaluronic Acid and Sodium Hyaluronate
Hyaluronic acid and sodium hyaluronate are both known for their hydrating and moisturizing properties. They can attract and retain water molecules, contributing to skin hydration and a plumper appearance. Sodium hyaluronate is the sodium salt of hyaluronic acid and is commonly used in skincare products due to its smaller molecular size, which allows better penetration into the skin.
Natural Moisturizing Factors
Natural Moisturizing Factors (NMFs) play a critical role in maintaining skin moisture and barrier function. They are composed of various elements, including amino acids, fatty acids, triglycerides, urea, ceramides, phospholipids, glycerin, and hyaluronic acid. By providing these essential components, The Ordinary Natural Moisturizing Factors + HA aims to support the skin's natural hydration system and improve its ability to retain moisture.
Amino Acids and Urea
The Ordinary Natural Moisturizing Factors + HA is enriched with multiple amino acids like arginine, glycine, alanine, serine, proline, and threonine. These amino acids:
Restore visible skin damage
Soothe the skin
Provide antioxidant properties
Strengthen the skin surface, making fine lines and wrinkles less deep
Urea, another key ingredient, also helps to hydrate the skin and reinforce its natural barrier function.
Ceramides and Fatty Acids
Ceramides and fatty acids, such as linoleic acid, oleic acid, and palmitic acid, are essential components of the skin barrier. They help in maintaining moisture levels and skin elasticity. In The Ordinary Natural Moisturizing Factors + HA, these ingredients work together to:
Make skin softer and smoother
Support the skin's natural barrier function
Improve skin hydration
In addition to the primary ingredients mentioned above, this product also contains other beneficial elements such as lecithin, caprylic/capric triglyceride, cetyl alcohol, propanediol, stearic acid, triolein, tocopherol, and more. These components collectively contribute to the overall efficacy of the product in moisturizing the skin and delivering desired results.
Texture and Application
The Ordinary Natural Moisturizing Factors + HA has a unique texture that can be described as lightweight and smooth. When you first open the product, you'll notice a somewhat thick consistency, but don't let that fool you. As you apply it to your skin, it spreads easily and absorbs quickly without leaving a greasy feeling.
To get the best results from this moisturizer, start with freshly cleansed skin. Apply a small amount of the product to your fingertips and gently massage it into your face and neck in circular motions. You may notice your skin feeling instantly plump and supple, thanks to the combination of ingredients like amino acids, fatty acids, and hyaluronic acid, which work together to mimic the skin's natural moisturizing factors.
It's important to note that although The Ordinary NMF + HA is suitable for all skin types, those with very dry skin may need to use an additional hydrating serum or toner underneath this moisturizer. This will ensure that your skin receives enough hydration before sealing it all in with The Ordinary's moisturizer.
If you have oily skin, you might be wondering if this product will be too heavy for you. Thankfully, the lightweight, non-greasy formula works well for oily or combination skin as well. If you find that the moisturizer feels a bit too rich for your preference, try starting with a smaller amount and adjusting as needed.
Packaging
Simple, sleek, and practical, The Ordinary knows how to package its products. The moisturizer comes in a no-fuss squeeze tube, allowing easy and hygienic dispensing. Plus, the packaging is travel-friendly, making it a perfect companion for skincare on the go. Many other moisturizers come in a jar or tub, but I prefer a tube over a jar as it is more convenient.
Fragrance
When it comes to fragrance, The Ordinary Natural Moisturizing Factors + HA is a winner in my book. It has a pleasantly mild and subtle scent won't overpower your senses or clash with any other skincare products you may be using. The fragrance is refreshing and dissipates quickly upon application, so you won't have to worry about it lingering on your skin throughout the day.
This makes it perfect for those who prefer skincare products with minimal to no fragrance and individuals with sensitive skin that can be easily irritated by strong scents.
The Ordinary has genuinely struck a balance with this moisturizer, ensuring a pleasant olfactory experience without compromising on effectiveness or skin compatibility.
Price and Availability
I love The Ordinary products primarily due to their low price and easy availability, and The Ordinary Natural Moisturizing Factors + HA is no exception. Priced at $13.50, it offers exceptional value for money. A little goes a long way with this product, making it a wise investment that won't break the bank. You can buy this cleanser at Ulta, Sephora, Amazon, or The Ordinary's website.
Size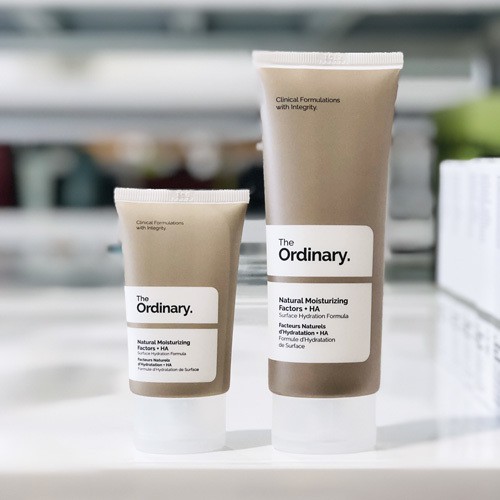 The moisturizer is available in two sizes to suit different needs and preferences:
30 ml (1.01 oz) for $5.80
100 ml (3.38 oz) for $10.50
These sizes are budget-friendly, with both options costing less than many basic drugstore moisturizers. The smaller size is perfect for those who wish to try the product without committing to a larger size, while the larger size offers better value for money for those who have already fallen in love with the product.
In terms of eco-friendliness, The Ordinary is a cruelty-free brand and does not test their products on animals. Additionally, the brand is committed to being environmentally conscious and actively works on improving their packaging sustainability.
Who Can Benefit from This Moisturizer?
The Ordinary Natural Moisturizing Factors + HA is a versatile moisturizer designed to suit various skin types. The following are the skin types for which this moisturizer could be beneficial:
Dry skin:

This advanced moisturizer contains Natural Moisturizing Factors, which are compounds naturally present in the skin to maintain hydration, making it ideal for those with dry skin. It helps to replenish the lost moisture and strengthens the skin barrier, preventing further moisture loss.

Oily skin:

While it may seem counterintuitive, this moisturizer can also be a good fit for oily skin. It is a lightweight, non-greasy formula that provides hydration without feeling heavy or adding excessive shine, ensuring comfortable wear throughout the day. A well-balanced moisture level can also help regulate oil production in the skin.

Acne-prone skin

: The formula includes amino acids such as arginine, histidine, and proline, which supply antioxidant properties and help restore visible skin damage. These properties make it suitable for acne-prone skin types that need gentle hydration without causing breakouts.

Sensitive skin:

This moisturizer is free from common irritants, making it a suitable option for those with sensitive skin who require a gentle yet hydrating product. Its soothing ingredients help calm any skin inflammation and ensure a comfortable experience.

Combination skin: The Ordinary Natural Moisturizing Factors + HA works well for combination skin types, as it provides exactly the amount of hydration needed without overloading certain areas. This allows the moisturizer to balance both dry and oily zones of the skin effectively.
In conclusion, The Ordinary Natural Moisturizing Factors + HA is a versatile and effective moisturizer that caters to various skin types. It provides essential hydration and protection while avoiding any unwanted greasiness or heavy feeling. To learn more about this product, visit the official product page.
My Experience and Results
After incorporating this moisturizer into my daily routine, I noticed a notable improvement in my skin's hydration levels. My face felt noticeably softer, smoother, and more supple. It even helped to balance out my oily skin by controlling excess oil in my T-zone.
Due to my oily skin, the product's texture is a tad thicker than I typically prefer. I do not like my skin feeling heavy or burdened, so lightweight moisturizers are usually my go-to. However, despite its thicker texture, this moisturizer has won me over. Surprisingly, my skin still loves it, which is quite impressive.
If you have dry skin, you might find that a richer cream suits your needs better. To enhance hydration levels, you can complement this moisturizer with a hydrating serum like The Ordinary Hyaluronic Acid + B5. This combo can give your skin an extra boost of moisture.
Another option is to mix a few drops of your favorite facial oil into the moisturizer for that added dose of hydration. It's all about finding the right balance for your skin type.
Of course, skincare is a personal journey, and what works for one person may not work for another. However, if you're searching for a no-nonsense moisturizer that delivers hydration without weighing you down, I wholeheartedly recommend giving The Ordinary Natural Moisturizing Factors + HA a shot.
The Ordinary Natural Moisturizing Factors + HA: Rating
| | |
| --- | --- |
| Overall Score | 4.1/5 |
| Texture & Absorption | 3.5/5 |
| Ingredients | 4/5 |
| Price | 5/5 |
| Performance | 4/5 |
| Packaging | 4.2/5 |
Complementary Products
When using The Ordinary Natural Moisturizing Factors + HA, it's helpful to incorporate complementary products into your skincare routine to optimize the benefits of this moisturizer. Here are some recommended products to use with The Ordinary Natural Moisturizing Factors + HA:
Hydrating Serum

: Adding a hydrating serum, such as

The Ordinary Hyaluronic Acid 2% + B5

, can boost your skin's hydration levels before applying the moisturizer. This serum will help retain moisture and provide an extra layer of hydration.

Basic Moisturizer

: If you feel that Natural Moisturizing Factors + HA is not enough on its own, you can use it as a base under a more basic moisturizer. This will enhance the moisturizing effects and provide your skin with extra nourishment.

Sunscreen

: A good sunscreen is essential to protect your skin from harmful UV rays. Applying sunscreen after your moisturizer, such as The Ordinary Mineral UV Filters SPF 30, will shield your skin and help prevent premature aging and sun damage.

Retinol: To improve skin texture and reduce the appearance of fine lines and wrinkles, you can incorporate a retinol product, like The Ordinary Granactive Retinoid 2% Emulsion. Use this in your nighttime routine, after cleansing and before moisturizing, to help your skin regenerate overnight.
Vitamin C

: A vitamin C serum, such as The Ordinary Vitamin C Suspension 23% + HA Spheres 2%, can help brighten your skin and improve its overall tone. Apply it in the morning before your moisturizer to take advantage of its antioxidant properties and its ability to protect against environmental stressors.
Remember to introduce these products into your skincare routine gradually and pay attention to your skin's needs. By using complementary products, you can elevate the benefits of The Ordinary Natural Moisturizing Factors + HA and achieve your ideal skin.
Alternatives to The Ordinary Moisturizer
Skincare is all about finding the perfect match for your skin's needs. While I can't guarantee that these alternatives will work for you, I suggest a few moisturizers that have garnered positive reviews and are worth considering.
CeraVe Moisturizing Cream: This one is a cult favorite for a reason. It's known for its rich and creamy texture, which is perfect for dry skin. Packed with ceramides and hyaluronic acid, it helps to hydrate your skin, making it plump and moisturized.
Neutrogena Hydro Boost Gel-Cream: This gel cream might be a great fit if you're after a lightweight and refreshing option. It has hyaluronic acid, which provides intense hydration without feeling heavy on the skin. It's oil-free, making it suitable for oily or combination skin types.
Belif The True Cream Aqua Bomb: This moisturizer delivers a surge of hydration. Its gel-like texture feels weightless on the skin and absorbs quickly, making it an excellent choice for those who prefer a non-greasy feel. With ingredients like lady's mantle and ceramide 3, it maintains moisture and keeps your skin feeling soft and supple. But it's super expensive.
In The Ordinary Natural Moisturizing Factors + HA review, all the alternatives given above are as good as the original product. However, you may find The Ordinary more affordable than others.
Conclusion
The ingredient list of The Ordinary Natural Moisturizing Factors + HA is awe-inspiring. It's packed with various amino acids, hydrates, and moisturizers that work together to deeply hydrate and moisturize the skin. Even better, this fantastic product comes at drugstore prices, so you get both effectiveness and affordability in one package.
Personally, I believe The Ordinary Natural Moisturizing Factors + HA is an excellent choice for an everyday moisturizer that won't break the bank. Its light and non-greasy formula is perfect for those who prefer a moisturizer that doesn't feel heavy on the skin.
It's important to note that if you have dry skin, this moisturizer may not provide the level of richness and nourishment you need. However, for those with normal to combination or oily skin, it could be an ideal option to keep your skin hydrated and balanced.
If you're still unsure about committing to a full-size product, I'd recommend trying out the smaller tube, which costs less than $7. It's a great way to test your skin's response before going all-in. I hope you find The Ordinary Natural Moisturizing Factors + HA review helpful!