Dry skin can feel uncomfortable and tight, causing itchiness and flakiness. Developing a proper skincare routine is crucial for those who suffer from this skin type, as it can help maintain and restore the skin's natural moisture barrier, leaving it more supple and hydrated. In this article, I'll show you my ultimate skincare routine for dry skin, from gentle cleansing to moisturizing and beyond.
As I dig further into the topic, I will recommend a variety of products and practices to tackle dry skin effectively. From serums to moisturizers, these skincare essentials will work together seamlessly, creating a well-rounded routine that leaves your skin feeling nourished, moisturized, and comfortable throughout the day. Understanding the importance of hydration and how to properly implement it into your regimen is key to achieving a healthy, glowing complexion.
Understanding Dry Skin
Before learning about skincare routine for dry skin, knowing what causes dry skin is essential.
Dry skin is often characterized by feelings of tightness, itching, flaking, and inflammation. It can occur due to various factors, and understanding the causes and types of dry skin can help you better address your skin's needs.
What Causes Dry Skin?
There are several factors that contribute to dry skin, including:
Environment: Low humidity levels and cold weather can cause the skin to lose moisture, leading to dryness.
Age: As we age, our skin produces less natural oils, which can cause it to become dry.
Over-cleansing: Excessive use of harsh soaps and cleansers can strip the skin of its natural oils.
Health conditions: Some medical conditions, such as eczema or psoriasis, can cause dry skin.
Essential Skincare Routine for Dry Skin
To keep your skin healthy, it's essential to maintain a water content of 10-15%. However, dry skin can make this difficult. One solution is using skincare products specifically designed to cater to dry skin. It's easy to incorporate these products into your routine by looking for hydration, moisture, and soothing ingredients. Examples of such ingredients include hyaluronic acid, ceramides, and squalane.
Here is my step-by-step skincare routine for dry skin.
Step 1: Cleansing (Morning & Night)
Cleansing is the first step in a skincare routine for dry skin. It is essential to use a hydrating cleanser that won't strip away the skin's natural moisture. Oil-based cleansers or micellar water are good options for dry skin. These products gently remove makeup, dirt, and impurities without over-drying.
What to Look for in a Cleanser?
The ideal face wash for dry skin typically features a creamy or oil-based consistency that aids in keeping the skin supple and moisturized by eliminating dirt, oil, and other pollutants. If you're searching for an exfoliating face wash for dry skin, opt for alpha-hydroxy acids (AHAs) that gently exfoliate and smoothen the skin.
Best Cleanser for Dry Skin
The best hydrating cleanser is the Fresh Soy Cleanser. This cleanser is packed with amino acid-rich soy proteins, cucumber extract, and rosewater – ingredients that help soothe and calm dry skin. Including this cleanser in your skincare routine for dry skin will help you achieve your daily hydration goals.
Step 2: Toning (Morning & Night)
I recommend using a hydrating toner after washing your face for optimal skin health. Toners are crucial in your skincare routine; you can apply them with a cotton pad or your hands. They prepare your skin for the next steps in your routine and provide a finishing touch after cleansing. If you have dry skin, the ideal toner should hydrate and restore your skin, balance its PH levels, and gently exfoliate.
What to Look for in a Toner?
When selecting a toner for your skincare routine, opt for a hydrating one that can keep your skin moisturized day and night. It's crucial to avoid toners that contain alcohol. The ideal toner should contain ingredients like glycerin or hyaluronic acid that can provide moisture to your skin and retain hydration.
Best Toner/Essence for Dry Skin
Versed Baby Cheeks All-In-One Hydrating Milk is a skin care product containing algae, bamboo, and coconut water. It helps to eliminate any remaining makeup and hard water residue after cleansing. If you want an essence instead of toner, the Tatcha The Essence is a high-end product that enhances your skin's texture and prepares it for further skincare.
Step 3: Hydrating Serums (Morning & Night)
Serums are an essential part of a skincare routine for dry skin because they deliver concentrated ingredients that target specific skin concerns. Hydrating serums, such as those containing hyaluronic acid, can help retain moisture and keep your skin feeling soft and supple. Vitamin C serums are also beneficial, as they can brighten dull skin and promote collagen production.
What to Look for in a Serum?
Again, Hyaluronic acid is an excellent skincare ingredient that effectively retains moisture. In addition to this, consider incorporating other beneficial components into your routine. These include squalane, ceramides, plant oils and extracts, and vitamin C.
Best Serums for Dry Skin
The Inkey List Hyaluronic Acid Serum is the ultimate winner for its remarkable formulation and affordable price. I have been using this hydrating serum for a while, which has never disappointed me.
Similarly, The Ordinary Granactive Retinoid 2% In Squalane is a perfect anti-aging serum that works wonders for dry skin. It contains a stable and potent form of retinoid that leaves my skin smooth and youthful.
Step 4: Moisturizing (Morning & Night)
In a skincare routine for dry skin, moisturizer is undoubtedly a game-changer. Using it twice daily is crucial for optimal results. I recommend a lightweight moisturizer during the day and a more nourishing cream at night.
For best outcomes, opt for a moisturizer that contains rich, fortifying ingredients that can effectively penetrate the skin barrier. Regular use makes your skin feel suppler, smoother, and more hydrated than ever.
What to Look for in a Moisturizer?
Look for products containing occlusives, humectants, and emollients that can seal in moisture and provide additional hydration. Some popular moisturizing ingredients include Jojoba oil, shea butter, petrolatum, and cocoa butter.
Best Moisturizer for Dry Skin
I love The Ordinary Natural Moisturizing Factors + PhytoCeramides as it deeply hydrates my skin and strengthens its barrier. However, my go-to pick is Olay Regenerist Ultra Rich Moisturizer when I'm in the mood for something richer. It's Olay's richest moisturizer, the perfect choice to lock in all the restoring ingredients I've applied earlier in my skincare routine for dry skin.
Step 5: Sun Protection (Morning)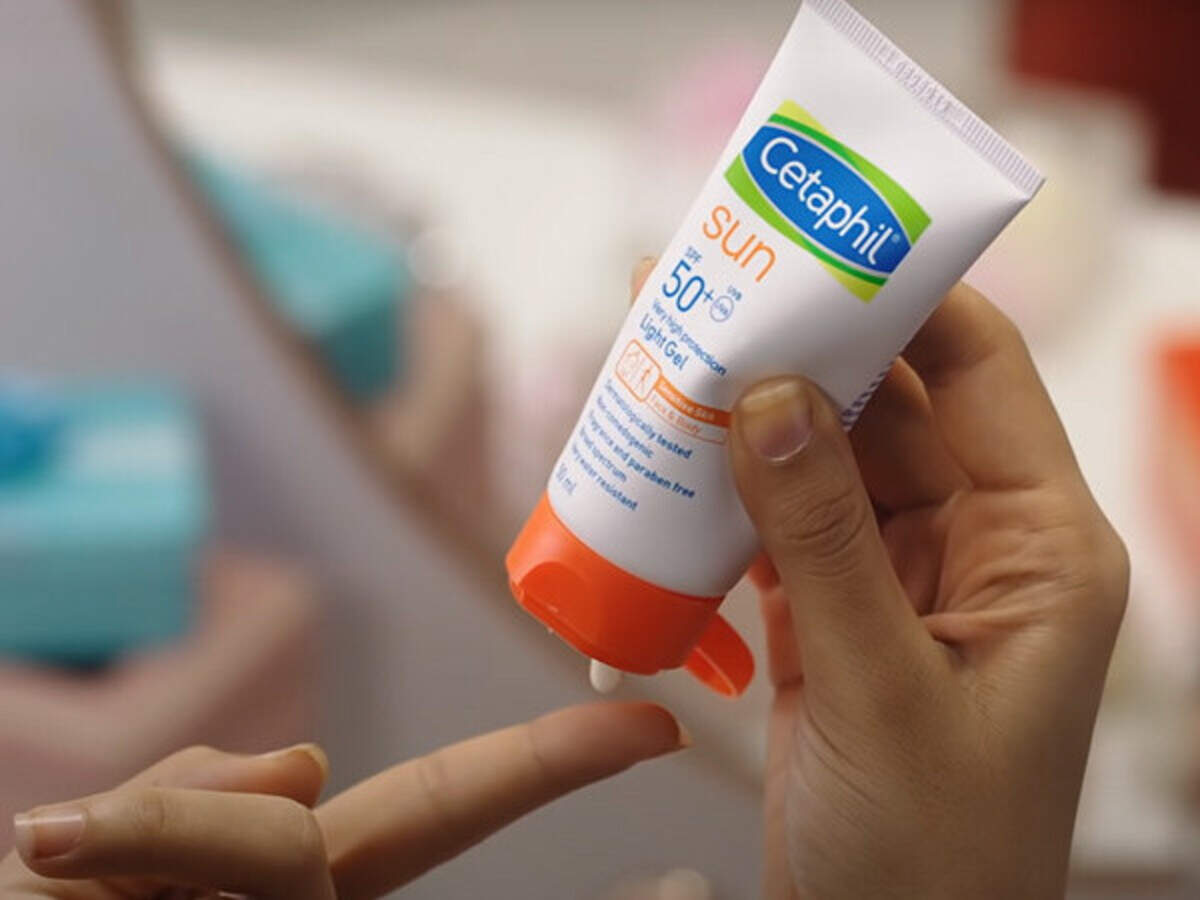 Lastly, always protect your skin from UV damage by using a broad-spectrum SPF sunscreen. Sun exposure can further aggravate dry skin and contribute to premature aging.
Remember to reapply sunscreen every 2 hours (or more often if you're swimming or sweating) to ensure you're continually protected from harmful UV rays. Regularly incorporating sun protection into your skincare routine will not only help prevent wrinkles, sun spots, and other signs of aging but can also play a role in maintaining your skin's moisture levels.
What to Look for in a Sunscreen?
Opt for a lightweight sunscreen that won't cause breakouts or clog your pores, even if your skin is dry. Consider using a mineral or chemical sunscreen with a minimum SPF of 50, personalized to your skin type.
Best Sunscreen for Dry Skin
If you want a sunscreen that won't interfere with your makeup routine, Neutrogena Ultra Sheer Dry Touch Sunscreen is a reliable choice. It saves your skin from UVA and UVB rays with its broad spectrum SPF 50 PA +++ protection.
Consider trying out Cetaphil SUN SPF 50+ Light Gel sunscreen as an alternative. This gel-cream hybrid has a glossy finish and won't leave your skin excessively dry. Both fit perfectly in your skincare routine for dry skin.
Step 6: Eye Cream (Morning & Night)
It is crucial not to neglect your eye cream if you have dry skin. After completing your skincare routine for dry skin, use a small amount under your eyes and brows. The skin near the eyes is one of the body's most sensitive areas and requires extra attention. Remember to make this the final step of your skincare routine for dry skin to ensure maximum absorption and effectiveness.
What to Look for in an Eye Cream?
When selecting an eye cream, opt for a lightweight formula that contains nourishing ingredients like hyaluronic acid, vitamin C, shea butter, collagen, and vitamin B. These ingredients restore and retain moisture, leaving your under-eye area smooth and supple.
Best Eye Cream for Dry Skin
I highly recommend trying CeraVe Skin Renewing Eye Cream. It's a great affordable option that provides both hydration and firming benefits. For those dealing with eczema and dehydrated skin, incorporating Aquaphor Healing Ointment into your skincare routine for dry skin can work wonders. It's a simple, cost-effective solution that can double as an excellent nighttime eye cream.
Bonus Step: Overnight Mask
Finish with a nourishing face mask specifically designed for dry skin to ensure you reap the full benefits of your skincare routine for dry skin. If you want a boost of hydration and rejuvenation, consider using an overnight mask to help regenerate your natural cells while you sleep.
Applying the overnight mask as the final step in your skincare routine for dry skin is essential. Wash it in the morning before applying any other products. This way, you'll lock in all the powerful ingredients and wake up with skin that feels soft, moisturized, and refreshed.
What to Look for in an Overnight Mask?
If you have dry skin, selecting an overnight mask can be overwhelming, with many options available. However, a mask containing hyaluronic acid or antioxidants is suitable for achieving softer, smoother, healthier-looking skin over time.
Best Overnight Mask for Dry Skin
If you're looking for an inexpensive hydrating mask that you can find at a drugstore, let me tell you that the Burt's Bees Hydrating Overnight Face Mask is a must-try product. Packed with avocado oil and prebiotics, this mask works wonders in hydrating dry skin, as attested by our tester and numerous satisfied online users.
By following this essential skincare routine for dry skin, you're likely to see improvements in your skin's overall health, texture, and appearance. Keep in mind that everyone's skin is different, and it may take some experimentation to find the best products and practices that work for you. But with patience and commitment, you can achieve hydrated, glowing skin.
Additional Skincare Techniques for Dry Skin
In addition to a basic skincare routine, incorporating specific techniques can help improve dry skin. This section outlines exfoliating, face oils, and spot treatments, which can be beneficial when tailored to dry skin types.
Exfoliating
Regular exfoliation is essential for removing dead skin cells and promoting skin cell turnover. However, it's crucial to choose gentle exfoliants for dry skin to prevent irritation. Here are some options:
Glycolic Acid: This alpha-hydroxy acid (AHA) is effective at gently breaking down dead skin cells while stimulating collagen production. Use a product with a low concentration and slowly build up to prevent over-exfoliation.
Lactic Acid: Another AHA that is well-suited for sensitive or dry skin, lactic acid also helps to reduce pigmentation and improve overall skin texture.
To avoid over-exfoliation, limit the use of glycolic or lactic acid exfoliants to once or twice a week.
Face Oils
Adding face oils to your skincare routine can help lock in moisture and nourish dry skin. One popular face oil is argan oil, known for its hydrating and antioxidant properties. Examples of other beneficial face oils for dry skin include:
Marula oil
Rosehip oil
Jojoba oil
Apply a few drops of face oil after moisturizing and gently pat it into the skin.
Spot Treatments
Dry skin can still experience breakouts, so incorporating targeted spot treatments is essential for maintaining a healthy complexion. Rather than using harsh ingredients like salicylic acid, opt for gentler options, such as:
Benzoyl Peroxide: Available in lower concentrations (2.5% to 5%), benzoyl peroxide can effectively treat breakouts without excessively drying the skin.
Remember to apply spot treatments only to affected areas and avoid prolonged use to prevent further skin dryness.
Conclusion
Managing dry skin can be challenging, but don't worry, it's doable – especially with the help of some affordable skin care products. Once you've identified your skin type as dry (or dehydrated), you can start taking steps to balance and support your skin's barrier.
By incorporating a few of these products into your regular skincare routine for dry skin and sticking to it, you'll be rewarded with healthy, supple skin all over your face and body. If you have any queries regarding a skincare routine for dry skin, please tell me in the comment section.