Acure Organics is an American beauty brand that has gained popularity for its organic and vegan skincare products. Committed to providing high-quality solutions to common beauty problems, Acure Organics offers an array of items such as moisturizing conditioners and skin serums.
The company has won plenty of customers over with their gentle, cruelty-free formulations that cater to different skin types, including sensitive skin.
In this Acure Organics skincare review, I'll talk about my experience with Acure skincare. Because Acure's products are reasonably priced, I got a variety of them, including a cleanser, scrubs, serums, moisturizers, and facial oils. While I didn't enjoy every product I tested, a handful have earned a permanent position in my skincare routine.
Acure Organics Skincare Review
Acure Organics is a skincare brand that focuses on providing affordable, clean, and accessible beauty products. Their products are vegan, cruelty-free, and made with natural ingredients catering to various skin types, from dry to oily/acne-prone skin.
One of Acure Organics' popular products that I loved is the Brightening Facial Scrub. It is well-known for its gentle cleansing properties and ability to work effectively on sensitive skin types. This scrub contains a mix of French green clay and walnut shells that help in exfoliating and removing impurities from the skin.
However, some users might find the walnut shells messy during application. So it may not be a go-to scrub for everyone.
Another highly-regarded product I tried from the Acure Organics line is the Radically Rejuvenating Whipped Night Cream. While writing this Acure Organics Skincare review, I did some digging about user reviews for its products. Consumers love it for its moisturizing and rejuvenating properties, giving it an average rating of 4.5 out of 5 stars. Additionally, Acure's Brightening Vitamin C & Ferulic Acid Serum received a 4.6 out of 5-star rating for its brightening and tone-evening effects on the skin.
Acure Organics also offers hair care products in addition to their skincare line. Acure's shampoo and conditioner are one of their most popular products. It is also the most accessible product that they sell. My local grocery shop has their full shampoo and conditioner range, which is excellent.
For customers interested in multi-use products, Acure Organics' 100% Organic Moroccan Argan Oil is a fantastic choice. It serves multiple purposes, such as evening out skin tone and reducing signs of tiredness. Plus, it comes at an affordable price of $12.99.
In conclusion, Acure Organics skincare line prioritizes clean, cruelty-free, and accessible beauty products. With various options available, consumers can find products tailored to their specific skincare and haircare needs. Keep scrolling for my detailed Acure Organics Skincare review.
Acure Organics: My Ratings
| | |
| --- | --- |
| Overall | 7.8/10 |
| Product Range | 8.0 |
| Key Ingredients | 7.5 |
| Price | 9.0 |
| Packaging | 7.0 |
| Texture & Abosrption | 7.5 |
Product Categories & Key Ingredients
In this section of my Acure Organics Skincare review, you will find all the trendy Acure products and their key ingredients.
Cleansers
Acure Organics offers a variety of cleansers suitable for different skin types. Many of their cleansers are formulated with argan oil, which is known for its moisturizing and nourishing properties. Other key ingredients include lemon and chlorella, which are known for their refreshing and detoxifying benefits. Here's a quick overview of their cleanser options:
Brightening Cleansing Gel: Infused with lemon and chlorella for a revitalizing cleanse.
Ultra Hydrating Cream Cleanser: Formulated with argan oil for added nourishment and hydration.
Scrubs
Acure Organics has a range of facial scrubs catering to various skin needs. Their scrubs contain ingredients like coconut oil and sunflower oil, which work together to provide gentle exfoliation and skin conditioning. Here are Acure's popular scrubs:
Brightening Facial Scrub: Contains lemon and vitamin C to help brighten the skin.
Moisturizers
Keeping the skin hydrated is essential, and Acure Organics has a collection of moisturizers to cater to different skin concerns. Key ingredients in their moisturizers include vitamin C, pomegranate extract, and ferulic, which offer antioxidant protection and promote overall skin health. Some of their moisturizers are:
Brightening Day Cream: A lightweight moisturizer containing vitamin C and pomegranate extract.
Radically Rejuvenating Whipped Night Cream: Infused with ferulic acid for overnight skin restoration.
Serums
Acure Organics' facial serums are targeted treatments designed to address specific skin concerns. They're formulated with potent ingredients like vitamin C and ferulic, which work together to help improve the skin's appearance. A couple of their popular serums are:
Brightening Vitamin C & Ferulic Acid Serum: Helps to brighten the skin and improve overall tone.
Incredibly Clear Pore Clarifying Serum: Aimed at refining the appearance of pores and excess oil.
Shampoo and Conditioner
Acure Organics Shampoos remove pollutants without stripping away the natural oils your hair needs. Its nutrient-rich formula nourishes your scalp, promoting stronger, fuller hair growth. Acure also offers a range of conditioners to complement their shampoos.
What impressed me the most about Acure Organics Shampoos and Conditioners is their ability to hydrate and nourish my hair. I struggle with dry and curly locks, but my hair felt noticeably softer and smoother after using these conditioners. Here is Acure's shampoo and conditioner range:
Vivacious Volume: Made from peppermint and echinacea to nourish and rejuvenate your hair.
Curiously Clarifying: Contains lemongrass and argan oil to remove excess dirt from weighed-down hair.
Ultra Hydrating: Made from argan and pumpkin to add hydration to normally dry hair.
Face Oils
Finally, Acure Organics offers nourishing face oils that can be used on their own or mixed with your favorite moisturizer for added hydration. With key ingredients like argan oil and coconut oil, these face oils have many benefits for the skin:
The Essentials Moroccan Argan Oil: 100% pure argan oil, perfect for nourishing and hydrating the skin.
The Essentials Coconut Oil Towelettes: Convenient pre-soaked towelettes for quick and easy makeup removal.
Remember to always patch test any new skincare product before incorporating it into your daily routine.
Here's My Detailed Review Of Acure's Popular Products
Acure offers many products, but only some are worth buying. I tried many of their products, including shampoos, scrubs, facial oils, and cleansing gels. Here is my detailed Acure Organics Skincare review of the brand's most famous products.
Brightening Cleansing Gel
What is it: The Acure Organics Brightening Cleansing Gel is a gentle, sulfate-free cleanser that revitalizes the skin, leaving it fresh and radiant. It's formulated with aloe vera and chlorella to hydrate and soothe the skin, while lemon peel and pomegranate provide an antioxidant boost that brightens and evens skin tone.
My review: I've heard foam cleansers may be drying, but I didn't find that with this one. Because of the bright, energizing aroma, I prefer using it as my only cleanser in the morning. I've heard so many positive things about it.
It's the ideal face cleanser because it's free of harmful ingredients and does exactly what it claims. Not to mention that it is inexpensive and easy to find. If you haven't got sensitive skin and enjoy foam cleansers, this one could be worth it. However, it might irritate your skin initially, so do a patch test before trying this cleanser.
Brightening Facial Scrub
What is it: Acure's Brightening Facial Scrub has received many positive reviews for its effectiveness in gently exfoliating and cleansing the skin without causing irritation, making it suitable even for individuals with sensitive skin.
This scrub is formulated with walnut shell powder, lemon peel, and French green clay, which work together to extract dead skin cells, unclog pores, and reveal a brighter, more radiant complexion.
My review: I use the Acure Brightening Scrub in the shower every other night to remove my makeup. Let me tell you something…this scrub is SCRUBBY. It's fantastic since a little goes a long way. I've only had to buy two bottles in five months, and that's with frequent use.
I like how the scent is soft and subtle. Because of the chlorella, the color is quite green. I appreciate that Acure uses natural plant and food-based elements. I was concerned that this scrub would be too harsh for my skin, but after rinsing it off, I discovered that my skin was softer and more moisturized than before.
Brightening Day Cream
What is it: The Acure Organics Brightening Day Cream is a lightweight, nourishing moisturizer formulated with cica, vitamin C, and ferulic acid, which work together to brighten and rejuvenate the skin. It's suitable for all skin types and provides hydration without a greasy feel, making it perfect for daily use.
My review: Brightening Day Cream's blend of rich oils makes it perfect for individuals with dry skin, while my somewhat oily skin also enjoyed it. It moisturized, plumped, and gave my skin a beautiful shine. During the day, I prefer to match this cream with Acure Brightening Vitamin C & Ferulic Acid Serum. Both are lightweight, and the materials complement each other wonderfully.
When used with an oil-free foundation, I think that this cream finds the right balance for my complexion. My skin is smooth and nourished without becoming greasy or oily.
Brightening Vitamin C & Ferulic Acid Serum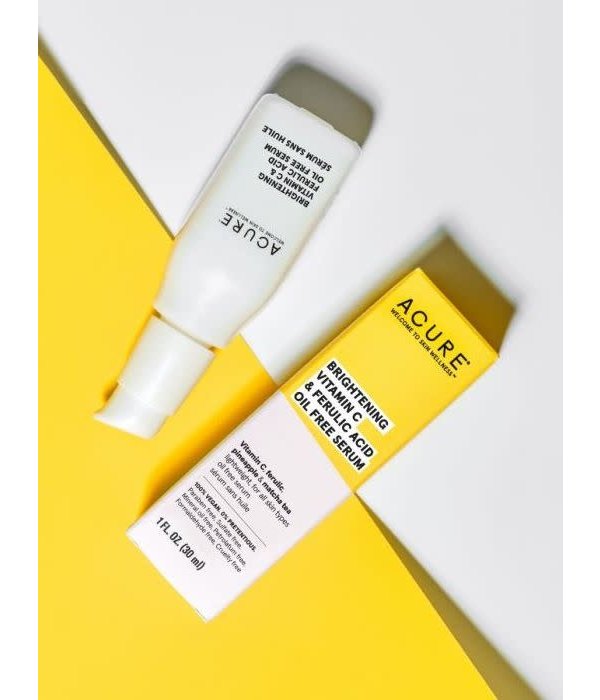 What is it: Acure Brightening Vitamin C & Ferulic Acid Serum helps brighten and improve the skin's overall appearance. It is formulated with a potent vitamin C, ferulic acid, and other nourishing ingredients to address uneven skin tone, hyperpigmentation, and signs of aging.
Regular use of Acure Brightening Vitamin C & Ferulic Acid Serum can help improve the overall brightness and clarity of the skin. It can also contribute to a more even skin tone and a youthful, radiant appearance.
My review: I like how this serum is called a "brightening" product since that is what it delivers. After just a few applications, I saw a massive improvement in my skin's condition, which turned from dull to glossy. This product feels excellent under moisturizers and makeup. It's lightweight and rapidly absorbs into your skin – a great victory from start to finish.
I used it twice daily, after my morning and nightly cleansing routines. A few pumps applied to my face and neck significantly changed my routine.
Moroccan Argan Oil
What is it: Acure Moroccan Argan Oil is a skincare product that blends the benefits of Moroccan argan oil, known for its numerous skincare and haircare benefits and rich nutrient profile. Its antioxidant properties help to combat free radicals, reducing the signs of aging and protecting the skin from environmental damage.
The oil is lightweight and easily absorbed, making it fit for all skin types, including sensitive and acne-prone skin.
My review: The argan oil was too thick for my skin. Because it takes longer to absorb, I feel like it remains on my skin for too long and suffocates it. It's perfect on days when I need a little more moisture.
On the plus side, argan oil does wonders for cuticles! My cuticles were coming apart after my previous manicure, but they were back in form with only a few Acure Moroccan Argan Oil applications. Overall, the oil was too thick on my skin.
Brightening Under Eye Super Greens Hydrogels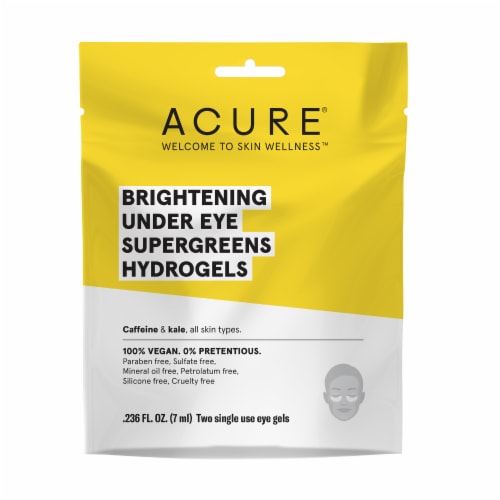 What is it: Acure Brightening Under Eye Super Greens Hydrogels are skincare patches for delicate under-eye areas. These hydrogel patches are infused with a potent blend of super greens and antioxidants to target dark circles, puffiness, and signs of fatigue. The hydrogel material of the patches is calm and soothing, providing a refreshing sensation upon application.
My review: I've always wanted to test this popular product, but I never had an excuse until I tried to write this Acure Organics skincare review. When applied, the hydrogels felt cold and relaxed against my skin, offering an instant refreshing experience. They stuck to the under-eye region comfortably, allowing me to move freely without fear of them slipping or sliding.
But I saw no difference after using them. I believe the purpose of undereye hydrogels is more for the cooling effect than anything else, which will not immediately improve your undereye circles. Maybe if I used them more consistently, I'd get better results.
You can try these if there's a special occasion or you want to give your under-eye area some TLC.
Key Benefits & Unique Features
Acure Organics Skincare is a natural and cruelty-free skincare brand that focuses on providing high-quality and affordable products. Their product line includes a variety of skincare solutions that are formulated with beneficial and unique ingredients.
One key benefit of Acure Organics Skincare is the use of AHA (Alpha Hydroxy Acids) in some of their products, such as glycolic and lactic acid. These acids help in exfoliating the skin, promoting cell turnover, and revealing a brighter and smoother complexion.
The brand also harnesses the power of fruits, incorporating extracts like pomegranate, blackberry, and acai into their formulations. These fruit extracts are known for their high antioxidant content, which helps in protecting the skin against environmental stressors and premature aging.
Another unique feature of Acure Organics Skincare is the use of walnut shell powder as a gentle exfoliating agent in some of their cleansers and scrubs. This natural ingredient aids in removing dead skin cells without causing irritation or damaging the skin's barrier.
The following are some of the key ingredients utilized by Acure Organics Skincare:
Pomegranate extract: Rich in antioxidants, aids in soothing the skin, and promoting a radiant complexion.
Blackberry extract: High in vitamin C and antioxidants, helps improve skin elasticity and fight free radicals.
Acai extract: Contains powerful antioxidants, essential fatty acids, and vitamins, which contribute to skin health and hydration.
Walnut shell powder: Provides gentle yet effective exfoliation, revealing smoother, brighter skin.
Lactic acid: Helps in exfoliating and moisturizing the skin, reducing the appearance of fine lines and wrinkles.
Here are the benefits that some critical ingredients of Acure Organics offer:
| Ingredient | Benefits for the skin |
| --- | --- |
| Cica | Soothes redness and irritation, great for sensitive skin |
| Sunflower Oil | Provides hydration, rich in vitamin E, and antioxidant properties |
| Safflower Oil | Lightweight oil, helps unclog pores & balance oil production |
| Coconut Oil | Deeply moisturizes, provides antibacterial & antifungal properties |
The product line offered by Acure Organics Skincare caters to various skin needs, making them suitable for all skin types. By incorporating unique and potent ingredients like AHA, fruit extracts, and walnut shell powder, the brand offers effective and affordable skincare solutions.
How to use Acure products?
When incorporating Acure Organics products into your skincare routine, consider the following tips to make the most out of your experience:
Cleansing:

Start by using a gentle cleanser to remove impurities, such as the

Acure Brightening Cleansing Gel

. If you prefer oil-based cleansers, consider combining a few drops of sunflower oil, coconut oil, and safflower oil for a DIY oil cleanser that can help dissolve makeup and grime. Remember to follow up with a water-based cleanser for a thorough double cleanse.

Exfoliating:

If your skin can handle physical exfoliation, try the

Acure Brightening Facial Scrub

. For those with sensitive skin, use gentle circular motions and avoid applying too much pressure. It's essential to exfoliate only once or twice a week to avoid skin irritation.

Serums:

To reap the benefits of potent ingredients like vitamin C, ferulic acid, and cica, consider using the

Acure Brightening Vitamin C & Ferulic Acid Serum

or

Acure Ultra Calming Cica Serum. Apply a few drops to clean, dry skin, and allow them to absorb before continuing with your routine.
Moisturizes:

For extra hydration, use the

Acure Radically Rejuvenating Whipped Night Cream

at night, allowing the peptides and vitamins to work their magic while you sleep. If you prefer oils, consider using the

Acure Argan Oil

as a nighttime treatment, focusing on dry patches and massaging the excess into your cuticles.

Sun Protection:

Don't forget to apply sunscreen every day as the last step in your daytime skincare routine. Acure Organics does not currently offer a sunscreen, so choose a broad-spectrum SPF from a reputable brand to protect your skin from harmful UV rays.
Remember to always patch test new products on a small area of your skin before applying them to your entire face. This will help you avoid possible irritation or allergic reactions.
Conclusion
In summary, Acure Organics is a reputable brand offering an impressive range of organic and vegan skin and hair care products. Their formulations are known to be gentle (perfect for those with sensitive skin) and many customers appreciate the quality and effectiveness of their products.
Some of the most popular Acure Organics products include their bakuchiol-based products, which make for a fantastic retinol alternative, as well as their Brightening Vitamin C & Ferulic Acid Serum. Users also rave about the affordability of Acure Organics products, making them a great choice for budget-conscious consumers looking for clean and accessible beauty options.
In addition to providing quality skin and hair care solutions, Acure Organics is also known for its eco-friendly and sustainable practices. I enjoyed most of their products and loved that they were cheap and readily available at local stores. Give these products a try, and let me know your experience.
I hope you found my Acure Organics Skincare review helpful!